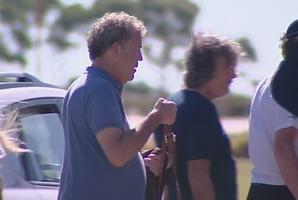 The stars of the worldwide-hit show Top Gear are in New Zealand and are expected to start filming today on one of our most famous beaches.
Jeremy Clarkson and James May arrived in Auckland yesterday afternoon and are expected to be on Northland's Ninety Mile Beach today to race a vehicle dubbed "the supersonic car" on the long, flat sand.
Clarkson and May were spotted arriving at Auckland Airport yesterday afternoon where they were seen getting into a helicopter and waving to media below.
Shortly after arriving, Clarkson took to Twitter to praise the sunny weather that welcomed them.
"New Zealand is looking extremely pretty today."
He later wrote: "It'd be great to stay in New Zealand for longer but I have to be in Spitsbergen at the weekend - and that's 1000km north of Norway."
They remained out of sight for the rest of the day, and locals who spoke to the Herald said they had not yet seen the stars or their crew around town.
The decision to allow the show to film on the beach has been a controversial one. A meeting was earlier held at Roma Marae, in Ahipara, after the Far North District Council failed to consult the local iwi about the event.
The council later apologised and those at the meeting gave their consent to allow it to be used in the programme.
The council said the beach was not technically closed.
"While there was no reason why normal beach user activity could not continue on the beach while filming was taking place, the public needed to be aware there would be filming activities and they needed to take extra caution," spokesman Rick McCall said.
Clarkson's arrival follows a controversial stay in Australia.
He reportedly told a group of photographers trying to take his photo: "You can take them out of England, but you can't take the convict out of them."