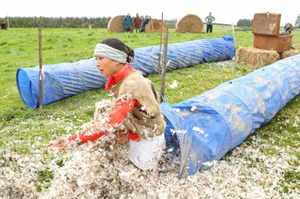 More than 10 million Americans witnessed the delights of Mid Canterbury this afternoon as the district featured as the back drop of the Amazing Race.
The award-winning reality television show aired on the CBS network in the prime-time Sunday night slot (3pm Monday New Zealand time) and gave the Mid Canterbury district the exposure money just can't buy.
"We couldn't ask for better publicity for our region," said Nigel Birt, general manager of Experience Mid Canterbury.
The episode was filmed along the Rakaia Gorge, Mt Hutt Station and Terrace Downs in November, under intense secrecy.
Numerous local businesses and individuals helped to make the show a reality, but all had to sign a confidentiality clause with a hefty penalty.
Thousands of fans follow the race as it is being filmed and rely on snippets of information from around the world to guess which team is winning.
The Amazing Race first aired in 2001 and has won a staggering 13 Emmy Awards in the United States.
In the race, teams of two people race around the world based on certain clues to find the pit stop for each episode at which point one team is usually eliminated.
It was the fourth time New Zealand featured in the long history of the programme, but host Phil Keoghan insisted the next series would visit Canterbury after the earthquakes.
Mr Keoghan was born and raised in Lincoln and has been the official ambassador for Canterbury Tourism. "I am very proud and, of course, very excited about letting people understand what makes Canterbury such a fantastic destination," Mr Keoghan said.
Experience Mid Canterbury staff successfully fended off competition from their Selwyn and North Canterbury counterparts to convince the Hollywood producers to film in the Ashburton district.
The team worked closely with New Zealand Tourism and Canterbury tourism to secure the bid and make the enormous production a reality.
Christchurch and Canterbury Tourism executive Tim Hunter said the effort had paid off.
"Canterbury offers the perfect adventure environment for The Amazing Race. We are delighted with the outstanding audience reach that this opportunity provides in the high value US market. Hopefully it will lead to more Americans putting the Canterbury region on their must-visit list," Mr Hunter said.