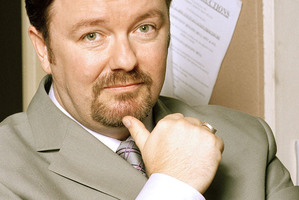 Comedian Ricky Gervais is bringing his most famous character out of retirement for a one-off TV appearance to raise money for charity.
Gervais will don his suit and goatee beard to play David Brent from his hit show The Office once again in a sketch for Britain's Comic Relief.
In the skit, the embarrassing office manager will be trying to break his way into the music industry as a manager.
Gervais tells Britain's The Sun newspaper: "I thought it was time to revisit my most famous comedy creation to find out what he's been up to for the last decade - and, most importantly, what he's up to now.
"He is passing on his wisdom to younger would-be rock stars now. Well, really he is trying to worm his way back into rock and roll."
The Office Revisited will air in the UK during Comic Relief's Red Nose Day TV fundraiser on March 15.
Gervais played Brent for two seasons of the hit comedy series in the early 2000s.
Watch the trailer here.
- WENN