It's still hot in the on-screen kitchens of two favourite cooking shows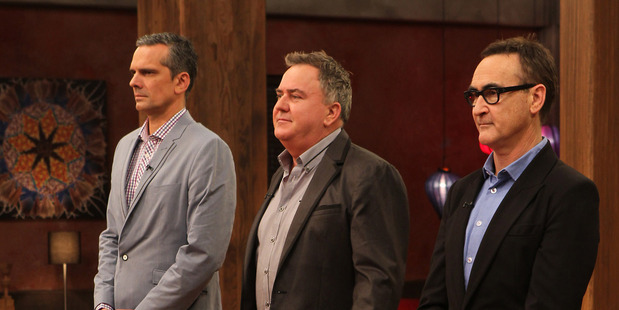 Competitive cooking shows are still popping up like a break-out after too much chocolate but, judging by ratings, we can't get enough. As well as feeding cravings for scallop ravioli and chef spouses, these shows feed off a little light voyeurism. Like other reality-TV stalwarts such as The Bachelor, they're all about getting emotionally involved with the characters (oops, contestants). The elimination-style format builds suspense as we gun for our favourite, desperately hope their macaron tower won't topple, and watch the tears of joy and disappointment flow.
Unfortunately, many such shows are all exaggerated drama, breathless hyperbole, hackneyed cooking metaphors, gyrating cameras and over-editing. But Aussie import My Kitchen Rules keeps all that to a minimum and focuses on its talent.
In the first episode of the fourth season, which premieres tomorrow on TV2, 12 pairs of friends, couples or relatives are welcomed to the studio and divided into two groups. In each group, the six teams (each representing one Australian state) will take turns cooking for the judges and the other teams, who all rate their competitors' meals.
This is daft. Given the lowest-scoring team will eventually be eliminated, what right-minded contestant would award their competitors anything more than a 7 out of 10? Why not leave it to the judges?
Fifty-something "childhood sweethearts" Kerrie and Craig are first up. They transform their Melbourne home into a 1970-style instant restaurant, then serve up a three-course meal that made me crave something other than packet pasta for dinner.
It's the couple's likeability, wit, banter and candour that make this episode, with a little help from their 70s wigs, lava lamps, mirror balls and vinyl menus. And it's highly amusing when Kerrie proves that Craig's responsible for the missing gelatin.
As for their guests, some are all talk, others look like quiet achievers. The giggly girls who flirt with the hosts, don't like most foods, brag they're going to win and flutter their false eyelashes are surely only here to be on TV. And the snotty student impersonating a food encyclopaedia is going to piss off the others. Unfortunately, there's no Kiwi team as there was in Season 3, making it harder for NZ viewers to get into the "state-versus-state, plate-versus-plate" rivalry.
Call it Kiwi bias, but I slightly prefer New Zealand's version, the hit reality show MasterChef, whose fourth season premiered last Sunday. By now, MasterChef NZ knows what viewers want - and gives it to them.
In last week's audition episode, hopefuls had 60 minutes to prepare and present a dish to the three judges, needing two yeses to don one of 24 MasterChef aprons. As ever, we saw the best and worst efforts, and the ones where people cried or acted cocky.
The producers must have high-fived each other when they realised their Fred Dagg-esque farmer had fallen asleep waiting for his audition, then admitted to Simon Gault that he'd barely slept after an all-nighter at the casino.
This guy's what they call good talent - and I'm not talking about his cooking. We'll see more of him in tonight's episode, when a third of the 24 contestants go home after two sudden-death challenges judged by top Auckland chefs, who prove tough taskmasters. Oh, and Simon Gault pronounces one dish MasterChef's worst ever.
Although Gault's usually pegged as the softie, I like the way all three judges resist conforming to good-cop, bad-cop stereotypes and strike that tricky balance of being blunt but not gratuitously mean. They don't write off contestants immediately if they see something in them, like the chump who auditioned for a cooking show with a plate of uncooked snacks. He got another chance and an apron, whereas MasterChef US' Gordon Ramsay would have chased him out with a meat-axe.
Annoyingly, though, the judges keep pontificating about what they're looking for this season, as though it's fundamentally different this time round. Come on, guys: you're looking for the best cook. Presumably there's pressure to differentiate and talk up each season, like a restaurant that tinkers with popular recipes, but ultimately this is window-dressing. The tried-and-true MasterChef formula remains the same.
Episode 2 of MasterChef screens tonight on TV One at 7.30pm. My Kitchen Rules premieres tomorrow on TV2 at 7.30pm.