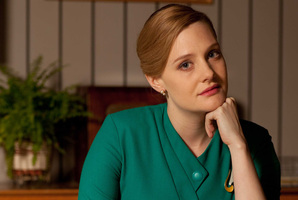 It was an easy, efficient bit of shorthand calling the British drama The Hour, "an English Mad Men", when the 50s-era series set behind the scenes of a fictional BBC news programme premiered on SoHo last year.
The trappings of the period, the old-style gender stereotypes and sexual politics, the deft combination of nostalgia and hindsight - the Brits proved skilled at framing all these in six episodes. And Dominic West and Romola Garai gave the likes of Mad Men's Jon Hamm and Christina Hendricks a run for their money when it came to looking sharp while smartly, sensitively exposing the flaws and virtues of their characters.
Despite these similarities, however, The Hour had its own identity and continues to be compelling.
Bel Rowley (Garai) is back overseeing The Hour but her news programme is facing some trouble.
Its presenter Hector Madden (West), is a bit of a star but the show has lost its edge, something head honcho Randall Brown (Peter Capaldi) wants to remedy.
The Hour's scripting is tight and sophisticated, thanks to writer Abi Morgan (The Iron Lady), and its performances are excellent. Ben Whishaw is perfectly cast as the sharp, nervy Freddie. For me, though, the lovely, whip-smart Garai remains its heart and soul.
A stroll down memory lane in some ways, a terrific parallel of modern ways in others, The Hour continues to impress.
TV preview
What: The Hour, season two
When and where: Tonight, SoHo, 8.30pm Guy Davis
-AAP