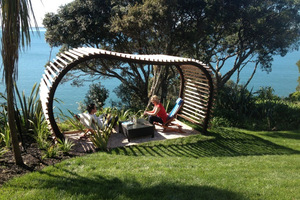 A home renovation show in the style of Grand Designs will hit New Zealand screens this year.
Former Good Morning presenter Evie Ashton will host the series in which an exclusive waterfront property once owned by the Barfoot real-estate family undergoes a full renovation.
Ashton said the show, which the Herald on Sunday understands will air on Prime Television, was a huge undertaking.
"It is a renovation show but what sets it apart from other renovation shows is that the result is so spectacular," Ashton said. "It is just amazing and is an unusual property."
Ashton started filming the series, believed to be called The Kiwi Dream, a year ago and is still working on voiceovers in the post-production stage.
MWC Media producer Geoff Burton bought the cliff-top home in Glendowie for less than the previous CV of $2.39 million. The house was in the news last year after it suffered an $800,000 drop - down to $1.53 million - in the Auckland Council's revaluations.
Burton complained to the council but the value of the house remains unchanged.
The house has 180-degree views over the Hauraki Gulf and was stripped back to bare frames before being rebuilt for the show.
The renovation included digging under the house to create space for a third bedroom and levelling the sloped land to create flat lawn.
The 1998sq m section faces northeast and has its own micro-climate. It also has access to two swimming beaches below, Burton said.
Ashton had previously starred in another Prime TV show, Our Place, made by the same production company.