Tammy Davis hopes viewers will connect with his latest character, writes Scott Kara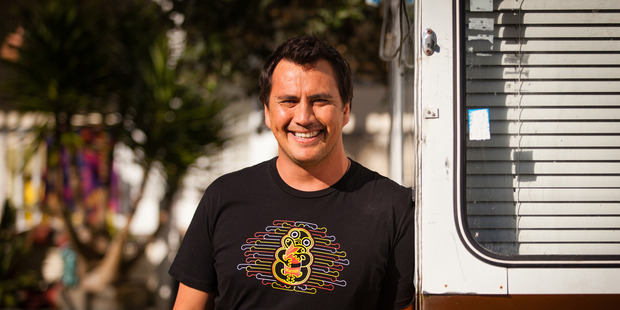 When Tammy Davis was playing Munter in Outrageous Fortune, elderly ladies would come up to give him a kiss. They'd squeeze his face as they told him, "We love you, boy. We love you. You're the best."
His character may not have been the sharpest tool (guy) in the shed, but he was a rare decent bloke among the show's many ratbags. Hence the fan club.
It's been just over two years since the show finished and in that time he's been doing his best to shed the Munter "tag".
He's written and directed two short films for starters, including 2011's Ebony Society, which was accepted into the prestigious Sundance and Berlin film festivals, among others, and now, just like many of his Outrageous co-stars, he's back on TV screens, this time as lovable, laidback Deano in new sitcom Sunny Skies.
Still, the 37-year-old actor, who is lounging on a couch at the Auckland offices of film company Curious, knows he will probably always be remembered as Munter.
"But I feel privileged to have played that character, and to have made an imprint on people's lives like that. So people will always be like, 'You played Munter in Outrageous Fortune', and that's awesome. Just like Tem [Morrison] will always be 'You're not in Guatemala now, Dr Ropata', and Cliff [Curtis] will always be Uncle Bully, the poor bugger," he says with a smile.
However, it also seems his new character is starting to make an impact, too, even before the show starts.
"Me and my missus went out for a walk the other night down at Cox's Bay," he explains, "and these guys had just finished playing touch, and this Maori fella comes up to me and says, 'Hey bro, when's your next show on?' I'm like, 'Friday, February 8.' And he's, 'Oh cool, good luck with it, man'."
Davis is also making his own mark as a director. On the morning TimeOut meets him he has just learned he has been selected to attend lectures and workshops at the Berlin International Film Festival which start this week.
But it's Sunny Skies, a charming, kooky, and very Kiwi comedy, that he's keen to talk about most. The six-part series follows the fortunes of two very different brothers who inherit a camping ground from their estranged father, Gary. The thing is, Deano, and older brother Oscar (played by Oliver Driver), didn't know they were brothers until they were summoned to the reading of Gary's will. The other catch is the brothers can only sell the campground if they both agree to it.
Pairing Davis, a pretty normal looking Maori guy, with the tall, angular and loud Driver is the ultimate odd couple set-up.
"We were worlds apart straight away, and that creates conflict, but it also creates comedy at the same time," says Davis, who was offered the part by the show's co-creator, director and producer, Mike Smith, who produced the first series of Outrageous and more recently directed Underbelly: Land of the Long White Cloud and Siege.
"He's the guy who gave me the Munter job. We've got history."
It's unlikely Deano will ever be as iconic as Munter, but they are similar in many ways, from their warm-hearted, caring natures through to their endearing slacker charm.
Deano has some very Munteresque lines, such as, "Dude, where's your slacks?", when they walk in on stoner handyman Gunna sitting sans trousers.
Then there are the other interesting, er, characters who call the campsite home, such as the two old blokes played by Ian Mune and Mick Innes ("We're not gays. Just good old-fashioned homos."), camp manager and potential love interest Nicki (Morgana O'Reilly), and Gunna, played by Errol Shand, who shows his comic side after a stint as ruthless crim Terry Clark in Underbelly: Land of the Long White Cloud.
The show is funded by NZ On Air to the tune of $1.2 million, with the writing team on the series led by veteran comedy writer Paul Yates (7 Days, Facelift), and includes stand-up comedian Jamie Bowen, and 7 Days writers Amanda Allison and Sam Smith.
Davis, who grew up in the central North Island town of Raetihi, used to go camping when he was a kid and has fond memories of pitching a tent at Houhora Harbour in the Far North in his early 20s.
"We roughed it, but there's nothing wrong with going for a dump in the bush, eh?"
The amenities are far better on Sunny Skies with the show shot at Sandspit Holiday Park near Warkworth, which is what you might call an old-school Kiwi-style campground. "When people see the show they will remember back to when they used to go camping. I think New Zealand still holds on to those traditions, even though these days when people go camping they have fridges, air beds, and the kitchen sink," he laughs.
For Davis, the show is about two brothers looking for their place in the world - and it was that idea that the writers and actors kept in mind as they were making the series.
"Because that's something everyone will go through in their life, whether you're buying a house, or whether you're Maori and looking for your turangawaewae, or whether you're a Pakeha buying your first house or looking for your roots. It's a basic yearning that all human beings have: who am I and where do I belong?"
When Deano first turns up at the campsite he is a lost soul, having been through countless jobs, a failed marriage and never knowing his father.
The only thing that he's got going for him is feisty daughter, Charlotte (Molly Tyrrell), who has some of the best lines in the first episode, such as when she taunts her long-lost uncle Oscar with "You know tall men get more prostate problems."
"But," says Davis of Deano's life, "when he gets to this campsite, and meets his brother, and finds out about his dad, it kind of completes him in a way. He's like, 'Wow. This is what I've been missing all my life'. I think he feels that through his older brother he will be able to get to know his dad, in a kind of strange way. The missing pieces of the jigsaw are being put together."
What: Sunny Skies, a new Kiwi sitcom set in a campground
Who: Tammy Davis, as cruisy, kind-hearted Deano who, with his uptight city slicker brother, Oscar, inherits a campground from their estranged father
When & where: Starts Friday, February 8, 8pm, TV3
- TimeOut