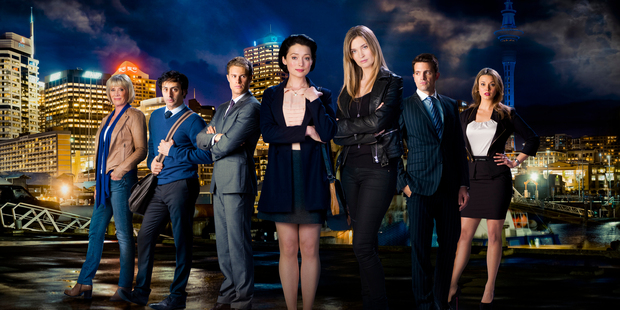 Pick of the week: The Blue Rose
Funnily enough, much of this new series from South Pacific Pictures is set on the actual Shortland St, a canyon of law offices in Auckland city.
And if they hadn't come up with the floral title, show creators Rachel Lang and James Griffin could have always titled it "outrageous fortune" - because the show is set in a world of those who charge such things (lawyers) or lose such things (shonky financiers).
However, The Blue Rose is not about the big-wigs; it's about the little guys - the office temp, the IT guy, the accountant and the girl from the courier company - taking on the rotters at the top and trying to overcome the injustices of the world.
The Outrageous Fortune connections don't stop with the creators. They wrote the series for the former West sisters Antonia Prebble and Siobhan Marshall.
Prebble is Jane, a smart but sensible office temp who takes a new post at inner-city law firm Mosley & Loveridge. She finds the woman she's filling in for, Rose, is actually dead - found floating face-down in the Viaduct Harbour after a company do.
The police think she fell in, a drunken accident, but Rose's best friend Linda (Marshall) is convinced there's been some foul play.
Rose wasn't drunk that evening, so why would she just fall in?
Linda enlists Jane to help her snoop around the office and it's not long before the IT geek Ganesh (Raj Varma), and ex-accountant Sonia (Jennifer Ludlam) have been roped in, too. It seems there have been some dodgy dealings going on upstairs, and Rose knew about them.
Marshall says they may not always agree, but the four "blue roses" share a quest to find the truth.
"They're an unlikely group of friends who've come together through this one thing that happens, but they're also quite open-minded to each other, which is really nice."
And their oddball ways certainly lend the series a humorous edge, while also dabbling in other genres.
"It's comedy, drama, thriller, noir," says Prebble.
Says Varma: "It's about ordinary people dealing with 'the man', and that hooks into that 2010 financial crisis and all the bullshit that went with it - the middle class shrinking, rich people making money at others' expense, taking advantage of people, doing fraudulent things, things people feel are really unfair and wish they could change."
When: 8.30pm, Monday
Where: TV3
What: The West sisters go legit
Reality pick: Crime Exposed
Coming straight out of South Auckland is this new real-life crime series, in a similar vein to shows such as Police Ten 7. However, this one goes behind the thin blue frontline to delve into the inner workings of New Zealand's police force, to look at the technology and intelligence-gathering techniques used to fight crime these days. Oh, and there's also some good old-fashioned crime-busting as they go after gangsters, dealers and thieves operating in the area's underbelly.
In the first episode, the forensics team is called on to investigate a brutal assault, and a rowdy party makes for an interesting night on the beat. Later in the series, the intelligence used to bring down a major drug operation is revealed, as well as the cutting-edge surveillance technology used to crack down on street gangs.
When: 7.30pm, Monday
Where: TV3
What: A look beyond the frontline
Cultural pick: Waitangi Day
This year, instead of the long and often serious Waitangi Day coverage of the past, Maori Television is offering a mix of music, chat and live coverage from Waitangi during its breakfast special, Waitangi Ata Marie, which will be hosted by Stephanie Huriana Martin and Te Arahi Maipi.
Later in the day the channel also has Crack Up (8.30pm), a night of laughs hosted by Mike King, and documentary Nga Tamatoa: 40 Years On, which marks the anniversary of the first National Maori Language Day in 1972.
Elsewhere, TV One and TV3 will have Waitangi coverage during their respective breakfast shows. Then at 12.30pm on TV One Marae Investigates has a Waitangi special, and at 8.30pm there is a replay of docu-drama What Really Happened - Waitangi on TVNZ Heartland.
When: Wednesday, 8am
Where: Maori Television
What: An entertaining start to Waitangi Day
Comedy Pick: Go On
The world does not lack for shows featuring therapy groups or ones starring former Friends. But reviews for Go On, the latest incarnation of Matthew Perry's gently caustic comedy personae, might just fly after the failures of his other television efforts, Mr Sunshine and Studio 60 on the Sunset Strip.
After all, Perry was the funniest of the Friends and his character in this - Ryan King, a recently widowed sportscaster ordered into group grief counselling by his employers after the death of his wife - has a bit of the ever-infuriated Chandler Bing about him. He's the centre of a colourful cast which includes John Cho (the current Mr Sulu in the Star Trek movies) and Tyler James Williams (the former star of Everybody Hates Chris).
This one is screening right after the new season return of Modern Family.
When: Tuesday, 8pm
Where: TV3
What: A Friend in need
Spy Pick: The Americans
Now that Homeland has effectively stopped being about spying, those who are after a weekly espionage fix may well find The Americans offers a satisfyingly old-fashioned fix of cloak and dagger thrills.
As our story this week explains, this show is set in the latter era of Ronald Reagan, the president who branded the USSR "the evil empire".
That new heat in the Cold War means more pressure on Washington-based KGB sleeper-cell agents Phlilip and Elizabeth (Matthew Rhys and Keri Russell), as they do their Soviet spymaster's bidding while trying to maintain their identities as a nice suburban couple running a travel agency and trying to raise two kids.
The children don't realise they are part of their parents' double lives and a product of their arranged marriage.
When: Monday, 9:30pm
Where: TV3
What: The spies next door
- TimeOut