A former CIA agent's experience coupled with a true story of Russian espionage makes for a gripping tale, writes Hannah Tattersall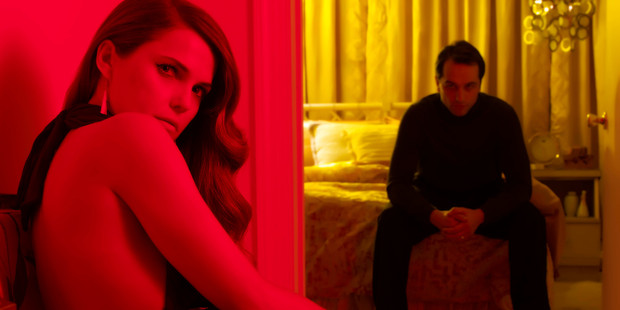 In 2010, a group of illegal Russian spies living undercover in the United States was arrested and sent to jail. The group, which included five couples, was part of an "Illegals Programme" run by the SVR - the successor to the KGB - and their goal was to gather information about the US and recruit more agents.
Although undercover spies were prevalent in the US during the Cold War, the existence of a Russian espionage group in 2010 came as a shock to many people.
About a week after the scandal broke, writer Joe Weisberg received a call from the presidents of DreamWorks Television. Was he interested in developing a television show based on the scandal?
Weisberg, a former CIA operative who had published a book based on his four-year stint with the agency, said yes, he was. Two-and-a-half years later, he presented the pilot for The Americans.
The series, about a pair of Russian spies posing as an American couple in 1981, stars Keri Russell (Felicity) as Elizabeth Jennings, a hard-hearted mother of two.
Brothers & Sisters actor Matthew Rhys, who audiences may also recognise from The Lost World and Greenstone - both of which were filmed in New Zealand - plays her husband Phillip. The pair were recruited by the KGB at a young age, set up in an arranged marriage and sent to live in suburban Washington DC.
Elizabeth remains fiercely loyal to the Soviet Union, but Phillip is starting to question the country from which they came. At the same time he is developing true feelings for his "wife", who he has pretended to be in love with for the past 13 years.
In the pilot episode, which airs in New Zealand on Monday, we also meet Stan (Noah Emmerich, The Truman Show), an FBI agent who moves in across the road.
Though the series is initially likely to draw some comparisons to shows such as Homeland or 24, which also deal with the idea of the enemy among us, The Americans is set in the 1980s, when the incredibly advanced CIA technology endemic to those two shows did not yet exist.
The world these spies inhabit contains hair rollers, floral wallpaper, large boxy fridges, owl ornaments, Yahtzee and typewriters. Rhys jokes that some of the spy equipment is "large enough to fill the trunk of a car".
Adding further authenticity to the era is a soundtrack comprising Phil Collins, Fleetwood Mac and Blondie.
"We thought about setting it in the 70s, because the hair was so great and the music was so great," says Weisberg. "And then we thought: 'Ronald Reagan'. What you really want as a show is great tension and great stakes and everybody at each other's throats. And we thought, what better than Ronald Reagan and how high the stakes were during the Cold War?"
Weisberg worked undercover for the CIA for four years in the early 1990s, just as the Cold War was coming to an end.
"A lot of what I drew on [for The Americans] was background knowledge and experience, about the world of intelligence and the difference between the reality and fantasy version of it," Weisberg explains.
Former CIA employees who wish to write about their experiences are required to submit whatever they want published to the CIA for approval. An earlier script Weisberg wrote for a different network was rejected as it contained information deemed too sensitive to publish. The Americans, however, made the cut.
"What was really interesting to me was people who raised their kids and didn't tell them what they did - because if you tell a 5-year-old you work for the CIA he goes to school and says, 'My daddy works for the CIA', and then you can't work for the CIA anymore.
"And there's also this lie in the house - when they reach a certain age you can sit them down and say, 'I've been lying to you for the past X number of years.'
"This made me want to tell a story about a family rather than an individual spy," he says.
Russell says she was drawn to the world of secrets and lies. Her character is a mother and wife during the day, while at night she often transforms into a "honey trap" - someone who uses the promise of love and/or sex to obtain information from their sources.
"You can't believe how often it's used," the actress says. "It's used on women a lot, too. It's affirming in some way that these brilliant scientists or politicians - all anybody really wants is love and they will give it all up just for a little bit of attention."
Rhys is a Welshman playing a Russian playing an American. He says having a showrunner (writer, producer) who was a former CIA worker helped him enormously with the role.
"He gave Keri and I counter-surveillance lessons," Rhys says. "Usually the showrunner comes in and goes, 'Do you want a coffee', or something, whereas he came in and said, 'Let me show you how to outwit someone who's tailing you'."
Rhys' character Phillip is grappling with his loyalty to the underprivileged lifestyle he left behind and the America he has come to embrace.
"There's so many layers here and each layer conflicts so beautifully. It's this perfect device for drama," he says. "Phillip's flirtation with defection is about securing their future and admitting it's better than waiting four hours for a potato.
"Ultimately it's a story about a relationship - and a complex one," he says. "It's two people trying to figure things out. The spy stuff is just a glitzy bonus."
What: The Americans starring Keri Russell and Matthew Rhys
When and where: TV3, Monday, 9:30pm
- TimeOut