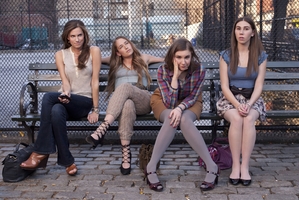 Girls costume designer Jennifer Rogien finds it a "relief" to style a "real-life character" on the show.
Rogien is responsible for dressing Lena Dunham and her co-stars on the refreshingly true-to-life program.
Girls has been praised for its realism and the fashion mogul also revels in the fact that curvy Dunham has a normal body shape.
"Normal is what she represents," Rogien explained to British magazine Grazia.
"It took a while to readjust to that, but actually, it's a relief. I'm styling a real-life character."
Dunham plays Hannah, who is known for her poor fashion choices and mismatched items of clothing.
String vests and dresses that are far too short all feature, but Rogien feels the show has managed to strike the right chord.
"My concern was that she'd look ridiculous, but she looks lovingly dishevelled - a direct reflection of her character," she smiled.
"My job is usually about making the leading lady look her best, but not here. Hannah clearly doesn't know much about fashion. And we put a lot of thought into conveying that message."
Set in New York like popular series Sex and the City it was clear the two shows would draw comparisons.
Whereas the program that made Carrie Bradshaw a style icon is glossy and idealistic, Rogien explains Girls was never trying to compete.
"We were very aware of Sex and the City and that our audience might be similar," she revealed.
"But style-wise it's deliberately different. Girls is about realism."
- COVER MEDIA