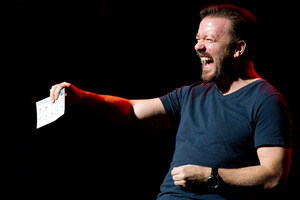 Ricky Gervais made "28 times" more money selling his new show than on The Office.
The 51-year-old comedian rose to fame playing David Brent on the UK version of the hit comedy series, which he wrote and then sold to TV networks across the world.
He believes video-on-demand broadcaster Netflix is the future of television and was happy to embrace the "artistic freedom" it offered by selling his new comedy Derek to the content provider.
He told the New York Post: "My new sitcom Derek premieres on Netflix next year. I consider Netflix TV's future. Viewing habits changed. People want everything on demand.
"Its figures are impressive, I have absolute artistic freedom and an artist wants maximum viewers with minimum interference.
"Besides, Netflix made me an offer I couldn't refuse. I tell you, I worked it out to 28 times what I made from the first series of The Office.
Ker-ching!"
Netflix is still not available in New Zealand, but provider Quickflix provides a similar service.
Gervais produced a pilot for Derek, which proved to be a hit on UK station Channel 4 earlier this year.
A full series will air in 2013.
- Bang! Showbiz