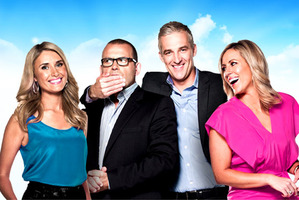 If Paul Henry came home to work at TVNZ he'd find it has changed from when he walked its studios.
The Australian Ten Network announced today it had axed the low rating Breakfast show fronted by Henry.
That has added to speculation TVNZ will re-hire Henry to present the new 7pm show replacing Close Up, planned to start on TV One next year.
People either love Henry or hate him. And TVNZ would hope both groups will watch him.
Henry has always wanted to front the 7pm show, but was shut out when he made fun of Indian minister Sheila Dikshit's name on TVNZ Breakfast.
After a period with RadioLive he moved to Ten on what is understood to have been on a lucrative three year contract.
It's not clear whether Ten intends to keep paying his salary - or a negotiated portion of it - or whether it will pay him out of the remaining two years in his contract.
If he does come back to TVNZ it would be a very different environment.
TVNZ news is now run by Ross Dagan, who is more more conservative than his freewheeling predecessor Anthony Flannery.
Flannery moved to Ten, where they created the Breakfast show with Henry in mind.
But the show was always a dog and never competed with breakfast shows Seven or Nine.
Henry was regarded as talented by some and as a boof head right winger by others.
More to the point, he drew just 40,000 viewers a day.
With financial strife causing cutback in Ten news and current affairs shows it was only a matter of time before Breakfast was killed off.
After that experience it is questionable whether Dagan would take the risk that Henry has mass appeal and would work at 7pm.
His old TVNZ Breakfast co-host Pippa Wetzell seems assured of a place.
Last week - amid speculation that Ten's Breakfast was being canned - TVNZ named Raewyn Rasch as executive producer for the 7pm show.
She has produced Fair Go and Marae Investigates, is regarded as conservative, and would be the polar opposite of Henry.