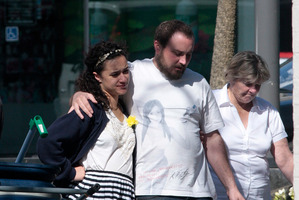 Actress Keisha Castle-Hughes has had a tough week.
Her TV show The Almighty Johnsons faces the axe and her beloved chickens were killed by a neighbour's dog.
The actress tweeted yesterday:
"All my chickens are dead :(,"
After condolence messages flowed in, she explained that her next door neighbour's dog broke in and killed the brown chickens.
"I'm having an actual cry. I have feelings after all!"
Her new fiance, Jonathan Morrison, told the Herald on Sunday the chickens belonged to her Grey Lynn landlord.
The Weekend Herald's columnist Wendyl Nissen, who also lives in Grey Lynn, had her chickens killed by a jack russell terrier in July.
She warned the neighbourhood in which chickens are popular, to be more vigilant about their safety.
Owners whose dogs attack people, stock, poultry, domestic animals or protected wildlife can be fined up to $3000.
The Almighty Johnsons is believed to be facing cancellation.
The show's creator James Griffin has said a third season will not be made. However, TV3 has yet to confirm this. An online petition to save the show had attracted 1827 signatures last night.
Keisha tweeted she was getting out of the house with her future in-laws to visit the Ellerslie Great Northern Day races yesterday.