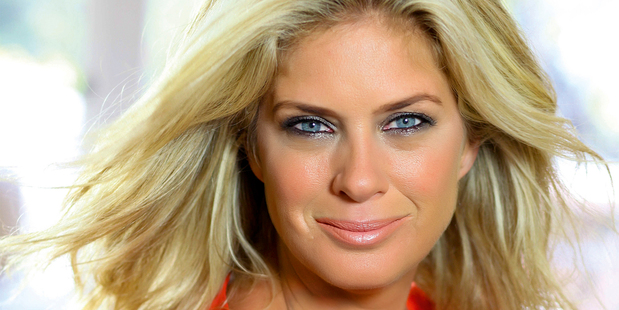 Rachel Hunter says she's looking forward to travelling south today to film the heats for the TVNZ reality show New Zealand's Got Talent.
Hunter is a judge on the show alongside Kiwi musician Jason Kerrison and former UB40 frontman Ali Campbell, who jetted into Auckland on Wednesday. "I'm really excited to be joining forces with Jason and Ali," Hunter told The Diary.
The trio will judge more than 60 acts from around the South Island in a two-day filming session in front of a live audience at Dunedin's Regent Theatre over the weekend.
The acts were selected from open auditions which were held around the country in May and June. More than 5000 acts took part
"I've been told the array of talent in Dunedin will be extensive," Hunter said with some trepidation.
She should be prepared for anything. I'm told the South Island acts are wide and varied, including singers, gymnasts, dancers, bands, animals, beat boxers and musicians.
Campbell, who had an acrimonious split from UB40 four years ago and forged a new band, said he is a fan of Salmonella Dub and Herbs. "I know them well," he said of the Kiwi reggae band.
However, the Brit appears to know less about his fellow judges. "I know Rachel Hunter is a famous Kiwi ... very beautiful and was married to Rod Stewart, but that's about all. And she's an actress," he told Breakfast.
He knows Kerrison is a musician, but doesn't believe he's heard any of his music. He cringed when told Kerrison's first cassette was by UB40. "That makes me feel a bit embarrassed and a bit old."
Campbell is looking forward to travelling the country for the show.
"I am excited about going to Dunedin. I have been there before, but I'm still very excited," he told The Diary.
"This [being a judge] is way out of my comfort zone ... When I was asked, I thought it will let me be in New Zealand for quite a while. I thought, a couple of months in New Zealand, that will do me."
The judges will travel to Wellington and Auckland over the coming weeks to film the other heats. An on-air date for the 13-episode show is yet to be scheduled.
NZGT host Tamati Coffey led a powhiri welcoming the judges at TVNZ yesterday, which is understood to have been filmed for the show.
WELLS JOINS COMEDY DUO IN LONDON
He is the public face of a state-owned asset, but Jeremy Wells is dipping his toe back in the comedy scene. The king of deadpan joins satirists Leigh Hart and Jason Hoyte in three shows which will screen on Comedy Central next month about the Olympic Games, called Olympico.
"We will be in London bringing you all the relevant action and, in most cases, not-so-relevant action and personalities," Hart told The Diary.
The follicly challenged funny man is no stranger to the Olympics.
"I covered the Sydney Games using a packet of felt-tip pens as accreditation, and I covered the Athens Games from Rome and Venice, and then the Beijing Games from Los Angeles and Disneyland - but this time we want to get closer." As in being in the right city.
DEVLIN TO BE PIRATE IN HIS OWN RIGHT
Outspoken sports jock Martin Devlin confirmed to The Diary he is leaving MediaWorks Radio for rival The Radio Network to front his own breakfast show on Hauraki.
"I'm champing at the bit to start ... Hauraki has real history and I'm keen to raise the bar and restore it to some of its former glory," he said.
Hauraki content director Mike McClung told The Diary a start date had not been confirmed yet, largely due to Devlin's restraint-of-trade contractual obligations.
The transition from sports broadcasting to a rock music station won't be a problem for Devlin and Hauraki listeners, McClung said. "He used to work at The Edge in Hamilton and he always has an opinion and broad appeal for our audience, which is mostly males."
Hauraki is aggressively pursuing a different strategy from its competitor, The Rock, which presents a multi-person on-air breakfast panel. The Martin Devlin Breakfast Show, a working title, will centre around the host and a newsreader.
Meanwhile, The Diary understands there's no shortage of names being touted to replace Devlin at RadioLive. A well-informed insider at the station suggested a list of stars, including Mark Richardson, Clint Brown, Firstline journalist Sam Ackerman, and television comedians Dai Henwood and Ben Hurley from TV3's 7 Days, "who are both pretty handy when it comes to sports knowledge."
'NEXT BIG THING' ROSE IN MTV PILOT
Kiwi actress Rose McIver has been cast in a new television pilot for American network MTV. The star of Sir Peter Jackson's The Lovely Bones will play a 22-year-old Hollywood lawyer looking for the perfect man.
The young Kiwi beat a number of American actresses to the part. Her agent, Imogen Johnson, says McIver competed against some of the world's best young actors. "Booking a highly sought-after and pivotal lead role like this one means she will be in demand in the US in the future," Johnson said.
The Hollywood Reporter this week described McIver as "the next big thing", but the young star is taking the attention in her stride. She says she is looking forward to filming starting.
"It's exciting to take on such a dark and funny role," she told The Diary.
Cassandra French's Finishing School For Boys is one of a series of television pilots commissioned by MTV, including the upcoming adaptation of UK hit show The Inbetweeners directed by Kiwi Taika Waititi.
KNIGHTS FOR BREKKIE
Olympic greats Sir Murray Halberg, Sir Peter Snell and Sir John Walker host the Countdown Breakfast of Champions at SkyCity on August 8 to raise money for Walker's Find Your Field of Dreams Foundation and youth sport. Tickets $85 from Ticketek.