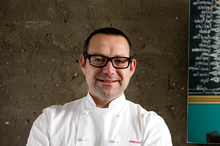 Kiwi kids would easily measure up if the popular Australian television show Junior MasterChef crosses the Tasman for a Kiwi version, says celebrity chef Michael Van de Elzen.
The semifinal of the popular Australian kids' version of the show, which pits amateur cooks against each other before a panel of expert judges, screens on Prime tomorrow night.
Imagination TV, the production company behind MasterChef New Zealand, says it has no plans to replicate the junior version here.
But Van de Elzen, an award-winning chef and host of TV1 show The Food Truck, says his experience touring the country in his 40-year-old truck has shown kids are among the keenest cooks.
"I'm surprised Imagination isn't doing it, because it's hugely popular in Australia and it's the kids that love these cooking shows. If they committed to Junior MasterChef it would just go absolutely nuts here."
His only concern with Junior MasterChef, which is open to children aged between 8 and 12, is the pressure on participants but Van de Elzen wants to see more mentoring of the young chefs.
"We have the best chefs in the world so there's no reason our kids won't be the best young chefs in the world."
Imagination TV supervising producer Cindi Lucas says the possibility of a Kiwi Junior MasterChef has been considered, but rejected.
"MasterChef itself is still going really strong so there are options to shake it up in the future but there are no plans to change things at this stage."
MasterChef runner-up Ana Schwarz can also attest to the enthusiasm of the country's young cooks.
She held two cooking classes for young people - one of which was fully booked out - in Auckland last week. A third booked-out class will take place on Tuesday.
TVNZ publicist Meredith McGrath told the Herald on Sunday that Schwarz remains under contract and cannot comment about the cooking classes.
"That's a decision that's made by publicity."
Junior chef has appetite
Twelve-year-old Gabby Hulme reckons she'd be up for a punt at Junior MasterChef.
The Orewa schoolgirl is already a keen chef and has decided to cook the family meal once a week.
On Thursday Gabby, with her mum Debbi Hulme-Parkinson, joined 28 other young chefs at a cooking class hosted on the Auckland waterfront by MasterChef New Zealand runner-up Ana Schwarz. On the menu was fish with Japanese-style crumbs, gnocchi and a chocolate eclair dessert - and they ate it all.
"That was the rule," Gabby says, "and the best bit."
Gabby says she'll be up for Junior MasterChef if the Australia-based show comes up with a local version.
Black fig tarte tatin with Parma ham
Michael Van de Elzen suggested this recipe for the pre-teens - Black fig tarte tatin with Parma ham, wild rocket and a balsamic reduction.
Serves 6
50g butter
6 tbsp brown sugar
6 fresh figs
6 discs puff pastry, size of a saucer
18 wild rocket leaves
salt and pepper
tsp olive oil
6 slices Parma ham (prosciutto)
Preheat oven to 200°C. Spread butter over the base of 6 small baking dishes. Sprinkle with brown sugar. Slice figs and arrange on top. Cover each tarte with a pastry disc and seal the edges. Cook on stove-top to caramelise the base, then bake for about 12 minutes or until pastry is golden. Remove from oven and allow to cool. Loosen edge with a knife and turn out by flipping baking dishes upside down. To serve, season rocket with salt, pepper and olive oil. Place each tarte tatin on a plate with smears of balsamic reduction. Top each with a slice of Parma ham, rocket leaves and a little black pepper.
Balsamic reduction
200g brown sugar
400ml balsamic vinegar
Place sugar and vinegar in a heavy-based saucepan. Bring to the boil, reduce heat and simmer until a thick consistency when cooled. Store in refrigerator.
By Cherie Howie

Email

Cherie