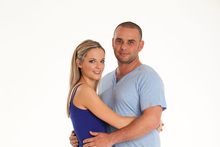 The four homes that feature in new reality TV series The Block could be demolished to make way for high-rise apartments after the show finishes.
TV3's big-budget do-up show hits screens next week. Four couples are busily renovating the dilapidated houses, which will be sold in a live auction at the end of the series.
But under a proposal before Auckland Council, the area could be rezoned to allow eight-storey apartment blocks to be built in the area.
A meeting was held on May 15 at which Takapuna residents spoke for and against the plans.
A rezoning decision will be made next month but land prices are likely to rise if the rezoning goes ahead.
"It's very much in the hands of individual owners and property developers," said one familiar with the proposition. "The marketplace will ultimately decide whether it becomes apartments.
"There are a number of new homes in the area and the council can't kick anyone out."
Eyeworks Television bought the properties for up to $635,000 each but they should be worth much more after the do-ups, regardless of whether they face the wrecking ball.
The new apartments zone is part of a council strategy to encourage high-density living.
But some residents are unhappy.
Takapuna resident Jean Revill said there was widespread opposition among local residents.
By Bevan Hurley @BevanHurleyHoS

Email

Bevan