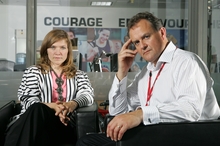 I'm not quite sure what it is about the Olympics that fills me with utter, blinding horror.
Certainly I find some of the sports eye-wateringly boring. Anyone for a spot of synchronised? Frankly I'd rather hit myself in the head - repeatedly - than do such a thing, so I most certainly can't see why I'd waste precious hours watching it on the telly.
Actually, I think my Olympics horror comes from not being able to escape the blanket media and television coverage that demands I be all cheery about New Zealand winning bronze in rowing or silver in cycling. If patriotism is the last refuge of the scoundrel, compulsory sports patriotism is the last refuge of bores trying to deliver an audience to an advertiser.
Someone suggested to me recently, in bad taste naturally, that they could liven up the Olympics by adding more interesting sports. I won't mention this sicko's preference, but I would say it was a definite breach of the Olympic charter, which says "Olympism seeks to create a way of life based on the joy of effort", social responsibility and respect for universal fundamental ethical principles.
I'm not really sure either how the BBC's sitcom Twenty Twelve (Fridays, 9pm, UKTV) sits with the charter either, including the bit about ethical principles.
I say this because to anyone with half a functioning memory - i.e, me - this series seems to be sailing (yet another dull Olympic sport) rather close to the wind when it comes to its premise: a fly-on-the-wall, behind-the-scenes mockumentary looking at the organising of the London 2012 Olympics. You will remember, because your memory is better than mine, that there was an Australian series some 12 years or more ago called The Games. It was co-written by our own John Clarke in the lead-up to the Sydney 2000 Olympics. Its premise: a fly-on-the-wall, behind-the-scenes mockumentary looking at the organising Sydney's Olympics.
It turns out the BBC knew all about The Games and even borrowed some DVDs of the series. It also and it turns out Clarke and his Games co-writer Ross Stevenson have more or less suggested that Twenty Twelve is a rip-off - something the BBC strongly denies.
The show's provenance probably wouldn't matter if Twenty Twelve was as excruciatingly, bum-clenchingly funny as The Games, but mostly, though it tries hard, it's not.
Downtown Abbey's Hugh Bonneville is Ian Fletcher, "head of deliverance for the Olympic Deliverance Commission". He is the smartest idiot among a team of idiots who, a la The Games, are entirely unsuited or unqualified for their work. Or just plain incompetent.
Last week's first episode centred on the marking of the 1000th day before the Opening Ceremony, the former being marked with a monumental cock-up: a clock that, instead of counting down the days to the Big Day, simply ran backwards.
There were certainly some lovely wry one-liners and bang-on pokes: the clock's maker was an artist who has "probably been best-known up until now for gaining a reputation"; there was the moronic website designer who, when it was pointed out that "Olympic" was incorrectly spelled said "oh that's just, like, spelling. We can change that whenever you want" then corrected it by misspelling it again.
There was also a nice exchange between Ian and his head of infrastructure, Graham, on the possibility of London's traffic light system failing during the games.
"It's like flying an aeroplane," Graham offered, "you get this right and no one is going to notice. You get it wrong ..."
"Everyone notices," says Ian.
"First they notice, yeah - then they die."
There are some nice running gags too, like Ian being incapable of organising something as simple as a weekend away with his wife: "[The weekend away] has subsequently been rebranded as a romantic mini-break - which is obviously a lot more complicated."
Yes, there's plenty to like about Twenty Twelve, and British reviewers suggests its comedy sharpens as it goes on. It's just not in the same class as The Games or, for that matter The Office, which set the bar for cringe-inducing workplace satire.
Pity.
There are only 50 days to go to the Olympics. And Twenty Twelve isn't going to be enough to stop me worrying about the utter, blinding horror of the real thing.
- TimeOut
By Greg Dixon

Email

Greg