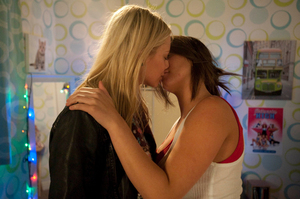 Last year's Coronation Street episode featuring a lesbian kiss did not breach standards, the Broadcasting Standards Authority has ruled.
In the episode, screened at 5.30pm in October by TV One, characters Sophie Webster, a religious schoolgirl, and her friend Sian Powers share a kiss.
It was the first time the programme, which used to screen at 7.30pm, had been shown in its earlier time slot.
Within an hour, TVNZ had received angry calls.
Complaints alleging the scene breached standards of good taste and decency, responsible programming and children's interests and standards relating to controversial issues were laid with the authority.
Yesterday, the authority ruled in favour of TVNZ.
Members said they were satisfied the kissing scene was not unsuitable for any unsupervised child viewers.
"The mere fact that the kiss was between two women does not make it less acceptable."
Media commentator Martin Gillman said those who were offended by the kiss "are probably a little narrow minded".
"Soap opera is there to reflect the normal day-to-day life ... and that sort of thing happens in people's lives."