The star of acclaimed murder drama The Killing talks to Russell Baillie about the series' second season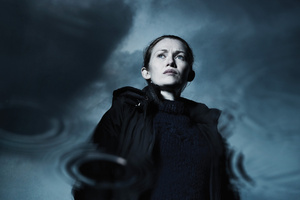 She might look like her in certain lights - under the grey skies of the Pacific North West or the harsh neon of a Seattle police interview room. But Mireille Enos clearly isn't Sarah Linden.
For Sarah Linden is the tightly wound redhead lead investigator in The Killing. She's an intense woman of few words who quietly rages against the world.
Mireille Enos, the actor who helped make her the most memorable police detective on television in an age - and got nominated for a Golden Globe and an Emmy for her troubles - doesn't sound much like her melancholic character. At least she doesn't as she chats animatedly down the line from Vancouver where the series is nearing the end of filming its second season.
She laughs as she locks herself in her bathroom to get away from the crying of 18-month-old Vesper, the baby she was five months' pregnant with when the show's pilot was shot in early 2010.
Linden is also a mother on the show, a solo one to 13-year-old Jack who quietly suffers his mom's dedication to the case of finding the killer of Rosie Larsen.
The body of Rosie, the high schooler with a secret life was found inside the boot of a submerged car belonging to the campaign group behind a Seattle mayoralty contender. After 13 chilling episodes, the evidence pointed to the murderer being candidate Darren Richmond.
But despite his arrest, Linden realised she had the wrong man and the season ended with a cliffhanger - something that raised the ire of many of the show's viewers hoping for a tidy conclusion.
Enos makes no apologies for leaving people hanging.
"Just give us the first 10 minutes of the first episode of the new season and all the people who were mad at us won't be mad at us any more. It really starts with a bang. The stakes get so intense really fast and it is really clear to me that we needed this much more time to tell this story. The plot gets very intense and complicated. I think they will think it is worth the wait."
The show started out as a remake of the acclaimed Danish series Forbrydelsen (The Crime) developed for American television by writer-producer Veena Sud in a marked departure from her previous crime-a-week series Cold Case.
It's the biggest role of the 36-year-old Enos' career, which was previously split between small TV roles and Broadway plays, though she played twin "sister wives" on the Mormon polygamy series Big Love for three seasons. Raised a Mormon herself, she majored in theatre at Brigham Young University in Utah before heading to New York.
The Killing, backed by HBO rival AMC (makers of Mad Men and Breaking Bad among other edgy fare) came up just after her Big Love role finished and she and actor husband Alan Ruck were starting a family.
Enos realised early on The Killing wasn't just another crime show and not just because of the Danish source material - she still hasn't seen the original "Sarah Lund". "I had a sense from just the style of the writing of the pilot it was so cinematic ... I knew it would mean an incredible amount of work but the pay-off is so worth it. It is like we are making little movies every week."
Enos agrees The Killing could be seen as an understated reaction to the American crime shows relying on franchise formulas and forensics.
"In a lot of these crime shows, these victims kind of become nameless and faceless ... there is something really irresponsible about that, the way the violence is depicted without seeing any of the repercussions. I think it was Veena's goal to see with a crime like this how it affects everybody connected to it.
"I admire actors who are able to be on crime shows that have a more kind of TV format and still show up every week and really try to invest those stories with a lot of life and heart. I think it would be really hard, if you had a new crime every week, to care about it. We have the lovely benefit of being able to focus just on this one case. We have so much time to get to know these people, it's really a gift."
The first series was a study in dark dank atmospheres and slow-building tension, albeit with plenty of diversions in the hunt for Rosie's killer. The second season, says Enos, keeps up the anxiety but should be more satisfying for those watching for the whodunnit.
"We are beyond the red herrings so every new clue is an actual piece of the puzzle and I guess maybe one of the challenges has been to not let the air out of the balloon just to keep this tense climb all the way to the end."
Which means Detective Sarah Linden will be clumping around in her fisherman jerseys and parka for a while yet.
"You should see when I go into costume," she laughs, "It's like a rack of 40 sweaters on any given day that I try on."
But at the end of the day, Enos takes off Sarah Linden's winter woollies, leaves her character at work and goes home where, occasionally, she counts her blessings. Especially the one about playing one of the most compelling characters on television.
"It's cliche but it's kind of an actor's dream - amazing writing, great cast, totally three-dimensional character that I get to live with for years and years and it's an incredible amount of work out in the mud and the rain.
"So it's hard too but I think without it being that hard there would something missing from the end product. All that toughness that you have to show up with to get it shot ends up in the story and makes it richer."
LOWDOWN
Who: Mireille Enos as Sarah Linden
What: The Killing season two
When and where: SoHo, Wednesday April 25 (double episode premiere) 8.30pm
-TimeOut