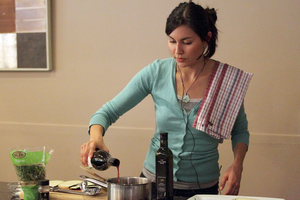 Nadia Lim will star on the TV One show Neighbourhood that starts at the end of the month. Photo / APN
A new local 35-part series begins on TV One on April 29, with the aim of checking out our unique and eclectic neighbourhoods from a personal perspective, and sharing the cultural treasures found there. Each week Neighbourhood will visit a different community around the country, and explore the creativity, food, politics, and culture that have a unique connection to that neighbourhood.
Each episode will be presented by a different well-known local - like Josh Kronfeld, Megan Alatini, Oscar Kightley, Paolo Rotondo, or Nadia Lim. In the first episode musician King Kapisi (aka Bill Urale) returns to his childhood stomping ground in Wellington - the vibrant inner-city hub of Newtown - and checks out the local Greek community's unique Easter celebrations, meets a woman who is regularly called upon to perform ritual cleansing for her Muslim neighbours, gets tribal at Sam Manzanza's annual Africa Music Day festival and discovers how a Mexican-born Newtown resident references a precious gift from her grandmother in her contemporary artworks.
-TimeOut