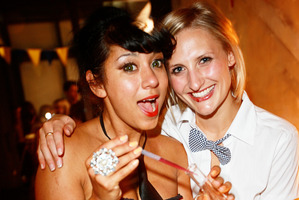 Terminally ill television star Helena McAlpine has been riding an "emotional rollercoaster" since learning that she has only months to live. And she says that is part of the reason she ended up in court this week on a drink-driving charge.
The 33-year-old former C4 presenter appeared in Auckland District Court this week. She did not enter a plea, but told the Herald on Sunday she intended to plead guilty when she goes back before a judge in May.
McAlpine, who was given three months to live in January, said she was "immensely ashamed" of her decision to get behind the wheel in the wee small hours of March 30 and drive home from a celebrity party.
"I'm on record saying I've got no regrets," she said. "Now this would be my only one."
McAlpine had spent the evening at the first-birthday bash she had organised for business club Generator at its swanky downtown office space. She said she drank three glasses of champagne over five hours, but had eaten nothing.
"The medication I take for my cancer leaves me with very little appetite. I can get to 11am and think 'Have I had breakfast?'.
"The long and short of it is it had been a very, very long day. It got to midnight and it was time for me to go home. I jumped into my car. It's probably the biggest mistake I've made."
McAlpine said the night had been an "emotional rollercoaster" because she had realised it could be the last time she had all of her good friends in one room.
"I was so emotional I had to leave. As I was driving I was crying for the first time since I'd been diagnosed. I was having a good, old sob to myself. Then I could see the booze stop way in the distance and I was thinking to myself 'I'm not drunk'. As soon as I blew and they said 'You've got alcohol in your breath' ... I was devastated," she said.
"It's not like I was running around with 10 bottles of Bollinger in my tummy. I can honestly say I would have had three glasses of champagne over that whole evening."
McAlpine was not sure if she would be eligible for a discharge without conviction, but said she hoped to hang on to her driver's licence.
"If I lose my licence, which the law states I should, I won't be able to get to my daughter [11-year-old Shannon] who lives on the North Shore. I won't be able to get to my medical appointments," she said.
"It's probably the lowest point of my life. It's just awful."
McAlpine recently had her ovaries removed at the recommendation of doctors who believed it would extend her life by as much as three years.
She had explained to the police and duty solicitor that a side-effect of her medication was that she had little desire to eat.
"Life is a funny thing. I've got to treat every day like it's my last. I want to wake up with a sore stomach because of laughing too hard the night before. That morning I woke up with the wrong type of sore stomach."