Harbour mastery Marcus Lush's North kicks off with a kindly look at a "poor-cousin" waterway.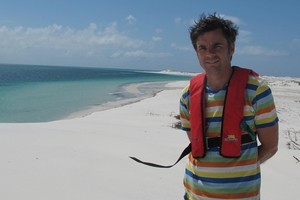 North is gorgeous. No, really.
The Manukau Harbour is "gorgeous". A muddy-looking dot of an island in the harbour is "gorgeous". Even a shark, the sort that bites people, is "gorgeous".
Marcus Lush, the show's presenter, is pretty gorgeous, too, really. But, it is shameful of me to admit, with all this gorgeousness my initial reaction was that I didn't really want even him sharing all my favourite places with all and sundry. Isn't that mean-spirited of me?
Lush starts the magnificently filmed documentary series, a companion to his earlier paean to the South, by revealing something of himself; that he is a Jafa (Aucklander) born and bred and that although he has given his heart to the Bluff, where he has lived for eight years, he has found himself missing the North.
"[I've been] wanting to see where I was from, what I liked and didn't like and what had changed."
I have a self-disclosure, too. Lush is going to several places which are dear to my heart.
In his first episode, Lush visits the Manukau Harbour. I used to live right next to it by the airport and walk my dog along the waterfront every morning and night.
I thought the Manukau was special, but until now it has had a poor-cousin status as harbours go. But it was not at all shabby in this rendition.
The incredible thing about North is the way the programme-maker, Jam TV, manages to make the bog-standard Kiwi stuff that we take for granted, and normal Kiwi characters like DoC officer Clinton Duffy, look all otherworldly and cinematic and heroic.
The scenery looks noble too, obviously. How do they film it all to look so glamorous? Even the utterances of the ordinary people, like a Manukau signal master, sound simple but Shakespearean: "Every day it's the same place but it looks different."
Lush reveals a disparate collection of Manukau Harbour experiences: the sinking of the Orpheus in 1863 with the loss of 187 lives, the industrial dispute over the Manukau Bridge, shark-catching with Kelly Tarlton hunters, plus visits to a private island and the old Kingseat hospital-turned-horror park.
Lush says Manukau Harbour is, rather praising it with faint damns, "the people's harbour. The more you get to know it, the more it reveals of itself."
I am not sure if that is incredibly profound or incredibly dumb.
Either way, I am inclined to go along for the ride and see what Lush makes of some of my other beloved places. It might just be gorgeous.
*North screens Sundays at 7pm on TV1
-Herald On Sunday / View