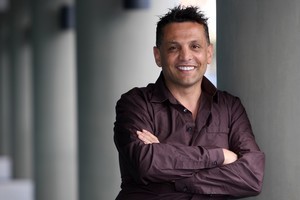 While Terry Serepisos is selling assets to cover more than $3 million in unpaid taxes, the contestants he "fired" on The Apprentice say they're on the up.
The Inland Revenue has applied to the High Court at Wellington to liquidate five of Mr Serepisos' companies for failing to pay $3.8 million, including taxes and KiwiSaver contributions.
Mr Serepisos said yesterday he would sell some of his assets to make ends meet in what he called "restructuring and refinancing".
His most indebted company is Century City Football, which owns the Wellington Phoenix soccer team.
The club cost $400,000 a month to run and could lose $1 million this year, Mr Serepisos said.
Early this year, Mr Serepisos hosted The Apprentice television show, where 14 contestants competed in a series of challenges to get a job at his firm.
Contestant Linda Slade said she had found great opportunities since coming fifth in the series, which finished filming in January.
Ms Slade, who was 21 when it aired, has moved to Auckland from Christchurch to join an advertising agency.
"Lots of things are happening; it's a very exciting time," she said.
"[The show] definitely opened up the doors for me."
Karen Reid, who came fourth, said her Auckland health clinic was doing well.
"Onwards and upwards," Ms Reid said.
She said she fully supported Mr Serepisos, who was a "really lovely guy".
Kirsty Parkhill, who was the third contestant to be kicked off, has also moved to Auckland, landing a position as a hotel's business development manager.
Ms Parkhill was not surprised Mr Serepisos was having cashflow problems.
"I understand it's quite normal in the property development world, moving assets around."
The Apprentice runner-up, David Wyatt, said he did not know enough about Mr Serepisos' finances to comment on the situation. But he had kept in touch with contest winner Thomas Ben, who now works for Mr Serepisos.
"Things seem to be going well for him and I wish him all the best," Mr Wyatt said.
Mr Ben, who has previously said he would like stay on at Mr Serepisos' firm after his one-year apprenticeship, declined to comment.