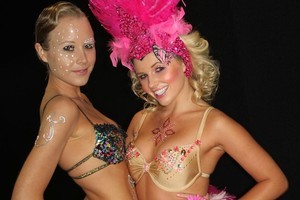 You know them as the modestly dressed nurse and bubbly university student on Shortland Street, but yesterday fans got a glimpse of what some of the sexy cast wear beneath their clothes.
Kimberley Crossman, who plays Sophie McKay and Faye Smythe, who plays nurse Tania Jeffries on the TV2 soap, went from medical to model on the runway at New Zealand Fashion Week.
The girls donned feather headdresses - and not much else - for the Phoenix House of Makeup show.
Nude-coloured knickers and diamante-covered bras covered up their modesty and bare skin on their stomach and legs was tattooed with body paint.
Also coming out from under her scrubs was Sally Martin who plays lesbian nurse Nicole Miller on the show.