Channels adopt widely varying strategies for current affairs programming in hunt for television viewers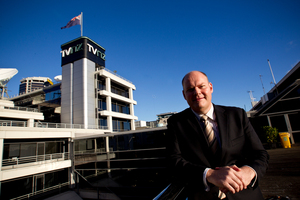 Television bosses are heading in different strategic directions as they decide their approach to current affairs programming and adapt to changes in the way viewers are consuming such fare.
But the genre's future will depend on television companies continuing to accept much lower profit margins from local shows.
TVNZ is being drawn towards light and bright, while TV3 insists there is a mood for more intelligent programming.
Programmes like Campbell Live and Seven Sharp cost a lot to run but they pay off with a brand-boost for channels that is hard to value.
In the tight advertising market a lot of the changes rest on the shows maintaining or boosting audiences.
TV New Zealand is claiming success with the TV One 7pm show Seven Sharp, which it depicts as the new face of current affairs.
The show has similarities with Breakfast and mixes humour with magazine fare.
It features Alison Mau, Greg Boyed and Jesse Mulligan and was launched on February 4 to dismal reviews and lacklustre ratings, which TVNZ said had picked up in the past week.
"It has really got its mojo," said TVNZ head news and current affairs director Ross Dagan, the architect of the show, who exits TVNZ next month.
TV3 owner MediaWorks is aiming at the higher end for its new show 3rd Degree, interspersed with its monthly issues-based programme The Vote.
Hosted by Duncan Garner and Guyon Espiner 3rd Degree starts on Wednesday and is described as "a new kind of current affairs".
Meanwhile, Prime television has made a belated shift into current affairs, including local content, with 60 Minutes - a US CBS format it took off TV3 at the end of last year.
For viewers the big hope will be that the turnaround will offer more choice.
For TVNZ and TV3 it marks a significant investment in shows for a challenging genre and their strategies are based on two distinct interpretations of the future of the market.
TV3 director of news and current affairs Mark Jennings is blunt.
With Seven Sharp TVNZ was getting dumber "and we are going in the opposite direction to that".
But Dagan said networks had to adapt to the market and doing nothing was not an option.
If editorial issues are complex on what works with the audience, the economics of prime time are even messier.
The good news is that news and current affairs programmes make up 40 per cent of viewers.
The majority of them watch the shows live, not recorded on My Sky or any of the increasingly common personal video recorders.
That means they do not fast forward through the ads and are sought after by advertisers.
But, like all media, the market in prime time is heavily fragmented with competition from other channels on Sky and other entertainment online and on mobile phones.
In this environment, Jennings said, creating a new show like 3 Degrees was a much bigger risk.
"Where once a show could be tried and tested for six or nine months, now it has to work straight away."
Dagan said there was plenty of room for different formats including Sunday, 20/20 and Q+A. But in the 7pm slot at least the need was for a chattier style rather than traditional current affairs.