No heir apparent as Aussie boss shocks staff with sudden departure on eve of new prime-time format.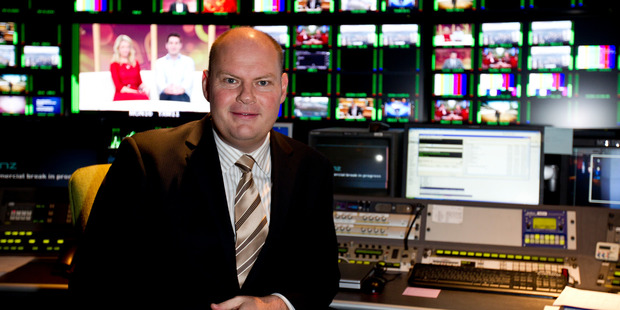 Former Close Up presenter Mark Sainsbury says he holds no resentment against Ross Dagan, who resigned on Tuesday, eight weeks after killing his show and TVNZ career.
"I hardly knew the guy but I wish him well in the future," said Sainsbury, who has been been in holiday mode since leaving TVNZ with a payout estimated at more than $500,000. He said he was looking at a few ideas.
Dagan is leaving after 10 months just as TVNZ is about to launch a new show to replace Close Up.
"TVNZ have a lot on their plate at the moment - bring back Bill Ralston," Sainsbury said with a chuckle. Ralston was TVNZ's head of news and current affairs from 2003 to 2007. Dagan replaced Close Up with the younger-orientated Seven Sharp format, with more short items and links with social media.
Ralston said TVNZ bosses told Dagan he had to kill Close Up and replace it with a younger-oriented show with more lightweight content or the 7pm timeslot would be taken from news and current affairs altogether.
Dagan and TVNZ insisted he was happy in the job and was leaving for family reasons.
Chief executive Kevin Kenrick insisted that TVNZ marketing department interest in news and current affairs content was not a factor in Dagan's departure.
A marketing industry source said Kenrick had taken a more hands-on interest in operational issues than his predecessor, Rick Ellis.
But Dagan's resignation for a lower-placed job at the Seven Network in Brisbane has come as a shock to news staff and left TVNZ's news and current affairs strategy in tatters.
There is no heir apparent at a time when TVNZ is introducing a risky new format in prime time and is under pressure to make more profits. Dagan's strategy to deal with demands for higher profit was now in limbo, said a source familiar with the issues.
Insiders described Dagan as "a micro-manager" and a perfectionist, whose appointment was at the expense of key middle management who applied for the role, missed out, and left the newsroom, leaving Dagan isolated at the top.
TVNZ had chosen him because he was "a technocrat" with an MBA, and the network did not want to return to the days under Ralston, when news and current affairs resisted demands from marketing.
Advertising commentator Martin Gillman said Seven Sharp might be TVNZ's biggest innovation for prime time and it was disconcerting for advertisers that the show's architect would be leaving so soon after it was launched.
With two weeks to go TVNZ has yet to secure a sponsor. Draft FCB media director Derek Lindsay said advertisers investing in Seven Sharp were taking a risk, and TVNZ was not releasing details of the new show, although he had faith in presenters Alison Mau, Greg Boyed and Jesse Mulligan.
TVNZ said no decision had been made on who would be in charge while a permanent replacement was found for Dagan. TVNZ sources said part of the problem at TVNZ was a lack of a succession policy in news and current affairs, a failure that applied across the company.
Dagan was appointed amid long-winded changes of chairman and the chief executive.
There was a six-month gap between Dagan and his predecessor, Australian Anthony Flannery. Now TVNZ looks set to embark on another expensive executive search.