Entwistle's 'lack of curiosity' and knowledge of details questioned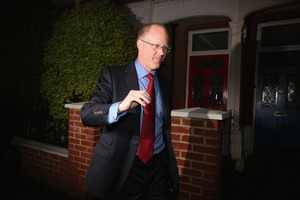 The head of the BBC was mocked by MPs over his lack of knowledge of the Jimmy Savile scandal, as the organisation admitted yesterday that current employees and contributors are being investigated over nine fresh claims of sexual harassment, assault and inappropriate conduct.
George Entwistle, the BBC director-general, admitted that a Newsnight investigation into sex abuse by Jimmy Savile while he worked at the corporation should never have been dropped.
At a House of Commons hearing, he was accused by MPs of displaying "an extraordinary lack of curiosity" in the Savile case as he claimed he only learned of the Newsnight story while eating at an event in a London hotel.
"It was a busy lunch - I didn't want to show undue interest," he told the Select Committee on Culture, Media and Sport.
It emerged yesterday that Liz Mackean, one of two journalists working on the Savile investigation, believed the story was quashed after Peter Rippon, the editor of Newsnight, questioned the witnesses' validity.
She claimed in an email leaked to Channel 4 News that he told her "the girls were teenagers, not too young ... they weren't the worst kind of sexual offences".
Entwistle told MPs that two of his senior colleagues - the director of news, Helen Boaden, and her deputy, Stephen Mitchell - had spoken to Rippon about the story before his decision to halt the investigation.
The director-general told the committee he was very disappointed in Rippon for producing an inaccurate blog about his decision not to run the story, which the BBC published on October 3.
In a series of critical comments about the Newsnight editor - who has been made to stand aside pending an internal BBC inquiry - Entwistle was scathing of Rippon's email to journalists that said the Savile story was based on evidence from "just the women". The director-general said: "The phrase, on the face of it, is not the least defensible."
Entwistle was asked about claims that a paedophile ring was active at the BBC, but said that while he had heard of allegations, it was a matter for the police to investigate. Scotland Yard's Operation Yewtree into sex abuse relating to Savile is following more than 400 lines of inquiry.
The gruelling two-hour session was a painful experience for Entwistle, who began work as director-general less than six weeks ago. MPs were incredulous yesterday that Entwistle still appeared to have very limited knowledge of the detail of what had happened.
He recalled his brief exchange with Boaden over Savile in 2011. He said she told him: "I wanted to tell you that Newsnight are looking at Jimmy Savile and if it comes off, if it stands up, it may have an impact on your Christmas schedule."
Entwistle, who was the BBC's director of vision at the time, was planning to broadcast tributes to Savile, who had died weeks earlier. But he never asked Boaden about the substance of the Newsnight investigation - even though he said it was relatively rare for her to give him such a heads up. He told the committee: "We never spoke about it again - I inferred the decision had been taken not to go ahead." On December 29, the BBC broadcast a glowing tribute show called How's About That Then?
John Whittingdale, the chairman of the committee, accused the director-general of showing "an extraordinary lack of curiosity". Entwistle said he had not wanted to ask any questions which "could be construed as pressure".
Fallout for key players
George Entwistle
With the BBC in need of leadership the DG needs to get a grip. He looks negligent for not ensuring Savile tributes were justified. Damaged.
Helen Boaden
The director of news must explain why she didn't give Entwistle more warning in their lunchtime talk, and what she knew and told Rippon of Newsnight's investigation. Vulnerable.
Stephen Mitchell
The popular deputy director of news is being sucked in. He spoke to Rippon and read his inaccurate blog before it was published. Questions to answer.
Peter Rippon
After inexplicably dropping the story, the Newsnight editor seems doomed without remarkable new evidence for Pollard review. History.
Mark Thompson
After leaving the BBC on a high, the former DG's time at the top is suddenly tarnished. A very unwelcome distraction.
- Independent