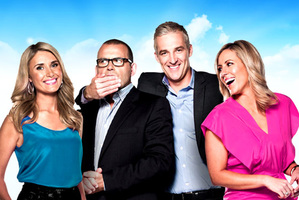 Australian TV viewers are fuming that $1 million man Paul Henry's struggling Breakfast show has survived the axe while an award-winning show on the same network has been cut.
The low-rating Breakfast show on Ten was rumoured to be facing the axe after staff were summoned to a crisis meeting at the channels' Sydney headquarters yesterday.
The network later announced the show would be cut back by half an hour, airing from 6am to 8.30am instead of the previous three-hour slot until 9am.
Henry, who is reportedly paid more than $1m, will remain on the show along with co-hosts Kathryn Robinson and Magdalena Roze.
But the show's survival has come at the cost of the Logie Award-winning show The Circle, which Ten announced yesterday would be cut from its morning line-up.
Ten chief executive James Warburton said in a statement the decision to cut the show was "not taken lightly".
"But tight fiscal control and cost discipline are a core part of our strategy."
Melbourne's Age newspaper said the move was a surprise for those who felt Breakfast was more more likely to be cut - but noted Henry's $1m contract was a "key factor" which "in effect, makes it more cost-effective for Ten to leave Breakfast on air".
Australian viewers, unimpressed with the decision, took to Twitter to vent.
Catherine Deveny pointed out The Circle was "cheaper to make and cheaper to axe because Breakfast co-host Paul Henry is on $1m contract".
Publisher and columnist Mia Freedman was in disbelief: "Channel 10 axes The Circle but keeps Breakfast with Paul Henry? Wait. What?"
Comedian Rhys Nicholson was also stunned: "Really, axing The Circle? At least it had viewers. Cancel Breakfast. Not even the presenters are watching it."
Australian website The Punch was full of blunt criticisms, with users describing Henry as "unspeakable", "awful" and an "instant turn-off".
One user commented: "Who wants to wake up to an arrogant, opinionated Kiwi making a complete a**hat of himself on a daily basis? Doomed to fail from the start."
Another made reference to controversial statements Henry made when he was a presenter on TVNZ's Breakfast show.
Henry got in hot water when he suggested then-Governor General Sir Anand Satyanand was not a real New Zealander, and made fun of Indian politician Sheila Dikshit's name.
"Turns out its Paul Henry who is the dipshit. And is he 'even an Australian' to feature on C10?"
Some were sympathetic to Henry's show, however.
"Actually, Paul Henry is a legend. He is funny and upfront in a way that the others only pretend to be. If you're watching the other rubbish good luck to you."
Meanwhile, Ten announced further changes to Breakfast show today, with the appointment of two new newsreaders.
Weekend newsreaders Matt Doran and Natarsha Belling will join the show from Monday, where they will present new from a brand new set.
The network said the pair would present a "stronger focus on breaking and analysing news".
The move aims to bolster Ten's plans for more news "from breakfast to bedtime", but it was slammed by Daily Telegraph TV writer Holly Byrnes today as "a desperate bid to boost dismal ratings".
The Breakfast show has struggled to pick up viewers despite millions being invested in setting it up and revamping it.
It debuted with 51,000 viewers in February but viewership has since dropped off, with a recent average daily national audience of about 28,000 people.
Ongoing tension between the co-hosts reportedly led to the departure of presenter Andrew Rochford last month.
The show's executive producer, Majella Wiemers, also quit. Former TVNZ staffer Sarah Bristow - who worked with Henry on TVNZ's Breakfast - took Ms Wiemers' place.
- APNZ