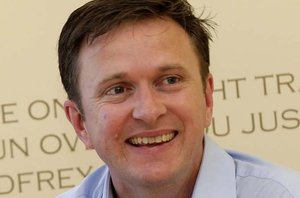 Former House of Travel chief executive Kevin Kenrick is expected to be named as the new chief executive of Television New Zealand.
It is the latest in a series of shake-ups at the state broadcaster and will likely be welcomed by TV stars and back room staff alike.
With no CEO in place and a number of other executive defections this year TVNZ has been in limbo as the board sought a replacement for Rick Ellis.
The Weekend Herald understands the CEO position was offered to a well-qualified Australian executive with a salary package of $1 million.
But when the board subsequently reappraised the package as being worth about $650,000, the executive withdrew. TVNZ declined to discuss the executive search process and is not discussing the pay package.
But a well-placed source told the Weekend Herald Kenrick had been lined up for the role.
He was chief operating officer for Telecom and has a background in marketing.
He left House of Travel in November last year and is expected to take over at TVNZ soon.
His appointment would continue a trend to have fewer people with broadcasting or programming expertise.
His first tasks are likely to include closure of the public service channel and the launch of Igloo TV - a pay television joint venture with Sky TV.
A Beehive source said there was "growing irritation" in the Government about delay appointing a replacement along with other high profile vacancies.
Head of programming Jane Wilson left TVNZ this time last year and has still not been replaced.
Anthony Flannery - who played a big role promoting Paul Henry and his role on Breakfast - has returned to Australia to Ten Network, taking news staff with him, and political editor Guyon Espiner defected to TV3 before Christmas and has not been replaced.
Meanwhile, TVNZ head of sales and marketing Paul Maher - who had applied for the top job at TVNZ - announced on Thursday he had resigned to be chief executive of television at MediaWorks, owner of TV3 and Four.
TVNZ chairman Sir John Anderson is leaving this month after extending his term to find Ellis' replacement.
The new head of news and current affairs, Ross Dagan, is expected to start next week.