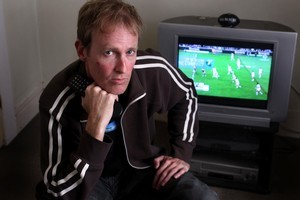 A man accused of threatening to kill Sky TV staff after his television cut out during a Rugby World Cup game will go on trial.
Nicholas Graeme Jillett has been charged with threatening to kill the pay-television company's staff after rain fade blocked him from watching the All Blacks beat France in a September Rugby World Cup pool match.
He appeared in Auckland District Court today to be told he will go to trial for his alleged threats.
A trial date will be set on February 28 next year.
Mr Jillett explained his actions outside court last month, and said he left a message on Sky's answerphone at 6:30am on September 20 after becoming frustrated with the interrupted service.
The message escalated and he "added'' the threat at the end to make Sky take the complaint seriously.
His Sky service had cut out for two to three days twice over the three week period before the answerphone message, he said.
He said he was receiving medical treatment for a liver ailment and experienced severe side-effects including mood swings.
"My treatment leaves me very lethargic and Sky TV was my happy place, just like the ad says. It was my life to an extent,'' he said.
He said he regretted leaving the nasty message.

- APNZ