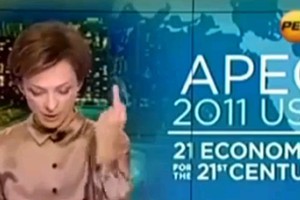 A top Russian TV network has sacked an award-winning news anchor who stunned viewers by inexplicably raising her middle finger after reading US President Barack Obama's name.
The bizarre episode happened during a routine afternoon news program hosted by REN TV channel newscaster Tatyana Limanova - winner of Russia's prestigious TEFI television award.
The November 14 show was progressing smoothly through another set of government meetings until reaching the Asia-Pacific Economic Cooperation (APEC) forum being hosted that weekend by the US leader in his native state of Hawaii.
"Dmitry Medvedev became chairman of the Asia-Pacific Economic Cooperation (APEC) organisation today," Limanova read.
"This post was previously held by US President Barack Obama," she added before quickly raising her left arm from the table and showing her middle finger to the TV camera.
The show then switched to a recording of an APEC press conference and then moved on to other news.
REN TV has withdrawn the video from its archive and many copies on YouTube also have been deleted.
A source at the station said Limanova was sacked on the day of the blunder. Her dismissal was confirmed on Thursday after the incident was reported by several Russian media outlets.
The station added in a statement that the anchor was in fact gesturing to her camera crew and had no idea at the time that she was still live on air.
"REN TV management considers this a gross violation of on-air discipline and unprofessionalism," the station said.
REN TV is Russia's largest television network not controlled by the state.
- AAP