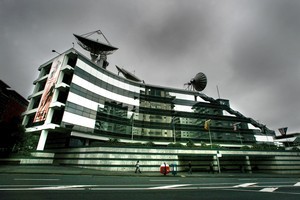 Rick Ellis, who has been at the departure gate for more than a year, is leaving as part of a mass exodus from TVNZ.
Ellis is to appoint a new head of news and current affairs before Christmas, and the head of corporate affairs post has been vacant for several months.
Eased out during Labour's softening of the state broadcaster's commercial edge, Ellis returned in 2005 when Ian Fraser fell out with the board. He's credited with calming long-running dysfunction and grievance among staff about the shift to new media and marketing control over programming, including news.
Speculation about a replacement has thrown up several candidates:
Julie Christie: Entrepreneurial founder of Touchdown TV has close contacts and the ear of National politicians. TVNZ board would be wary of an appointment that might lead to upheavals inside the company.
Joan Withers: Ex-Fairfax NZ chief executive, now TVNZ deputy chair, knows the ad business.
A favourite of the Government, she's teed up to replace chairman Sir John Anderson and is committed at Auckland International Airport and Mighty River Power leading up to privatisation
Brent Impey: Former chairman of MediaWorks, director of Yellow Pages Group. High-profile commercial broadcaster, popular at Government level, but may have bigger fish to fry.
Paul Maher: Former adman turned sales and marketing boss. Ambitious for the top job, has increased TVNZ market share. Critics say he lacks the management gloss for the CEO role.
Jason Paris: Former TVNZ marketing boss who claims Ellis as his mentor and was heir-apparent. After an ill-fated stint with TV3 owners MediaWorks, he's well placed in the management hierarchy at Telecom.
Rodney Parker: TVNZ's chief financial controller has played a key role behind the scenes. Parker is no flashy, high-profile leader but if TVNZ appoints from within, he is the most likely choice.