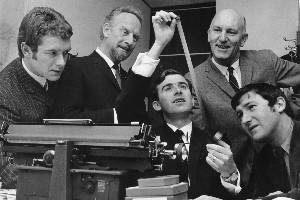 Veteran broadcaster Rhys Jones is ready to 'fess up. Those vox pops he was sent to do for Town and Around in the 60s were not quite what they seemed.
His producer at the time, Irishman Maurice Smyth (pictured examining the film), was keen on vox pops - impromptu, live interviews with everyday New Zealanders, and Town and Around became known for them.
As soon as an issue cropped up in the news, Smyth would send one of his team down to Queen St with a cameraman and sound technician to collect on-the-spot interviews with startled shoppers and workers.
But Jones, tired of people mumbling or saying they hadn't thought about it, decided to spice things up a little. He got to know a group of talented actors and drama students at Auckland University and would pop up to the campus from the show's Queen St offices whenever Smyth sent him out for vox pop comments.
"I'd get some brilliant responses because they'd go and rehearse them," laughs Jones.
"They'd all come out with these erudite answers. I got all sorts of accolades around the place because I could do the best vox pops of anybody in the place. I still don't think I've told Maurice Smyth or any of those people."
In those days Town and Around was like a cross between a current affairs and a lifestyle show, with plenty of humour and silliness thrown into the mix.
"There was no brief really. It was just up to the producer to get a reasonable balance on the night," Jones says.
He's pictured (far left) with Keith Bracey, Smyth, Lindsay Broberg and Tom Finlayson. Bracey and Broberg have since died. Smyth is retired in Pukekohe and Finlayson has completed his masters degree in linguistics at Auckland University. Jones, a classic motorcycle enthusiast, writes a column for Kiwi Rider magazine.
Back in the 60s, reporters were encouraged to come up with their own gags. Jones remembers doing a story in Taupo about an escaping haggis. A Scotsman had arrived in New Zealand some years earlier, the story went, and now that the haggis had escaped. They were breeding around Lake Taupo so Jones, with camera and sound crew, went on a haggis hunt.
Reporter Erin Sinclair persuaded a turkey farmer to kit out his prized turkeys with gumboots to stop their feet from getting muddy, a piece of filming that is still talked about today.
Reactions were varied, Jones remembers. Some viewers loved the silliness, ringing in to say keep it up. But others, including schoolteachers, rang to say the Town and Around pranks were "confusing" to children.
jane.phare@hos.co.nz