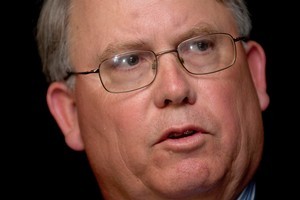 Sky Television delivered another solid result yesterday, rewarding shareholders with a 25c per share special dividend valued at around $97.3 million.
The special payout follows an ordinary end-of-year dividend of 10.5c per share and brings the annual payout to 43.5c per share.
Chief executive John Fellet said the Sky board had been conservative on dividends policy in the past, especially after the global financial crisis.
"There have been other times we could have given a bigger dividend but we kept a reserve. We feel a bit more comfortable about the market now," he said.
Sky subscriptions rose 27,024, or 3.4 per cent, and there were a record 829,421 subscribers as of June 30.
The company - 43.6 per cent owned by Rupert Murdoch's News Corporation - reported a 17 per cent rise in net profit to $120 million.
Sky enjoyed a peripheral benefit from a 5 per cent rise in TV advertising that boosted profits on free-to-air channel Prime TV, despite its share of the TV audience slipping.
Overall Sky advertising revenue was up 16.8 per cent to $62.7 million.
But most of the increased revenue was from a $7.8 million increase in subscriptions and a 47.8 per cent increase in people adopting the more expensive MySky HDi.
MySky now delivers $280 million and accounts for 35 per cent of subscribers.
Sky estimated the cost of disconnections from the Christchurch earthquake was $1.26 million.
The average revenue per user was up 4.7 per cent to $70.45.
Forsyth Barr analyst Rob Mercer said Sky had signalled last year it was reviewing dividends policy so the extra payout was not unexpected. It was a positive result and Sky still had prudent gearing levels.
The increase in subscribers was good considering economic conditions and as the economy improved it could return to gains of 30,000 subscriptions.
Asked about prospects for regulation of the company, Mercer said Sky still provided a good value proposition compared to other countries. But regulation would always be a talking point.