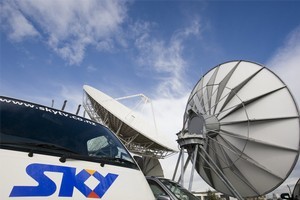 Sky Network Television said annual net profit rose 16.8 per cent as subscriber numbers grew to a record and more switched to MySky.
The pay TV operator said net profit for the year ended June 30 rose to $120.3 million from $103 million the previous year as revenue rose 7.4 per cent to $796.9 million.
"Sky has had another excellent year, continuing to show gains across all key areas, including growth in subscriber numbers, increased average revenue earned per subscriber and a continued reduction in churn," said chief executive John Fellet.
"We have also been pleased with the performance of our free-to-air channel, Prime, which has continued to increase its share of advertising revenue," Fellet said.
Subscriber numbers grew 3.4 per cent, or by 27,024, to 829,421 during the year and Sky said it is now in 48.7 per cent of New Zealand homes.
MySky subscribers rose to 279,875 from 189,975 a year earlier, now 35 per cent of total subscribers compared to 24.4 per cent a year earlier.
That helped average revenue per subscriber (ARPU) climb 5.6 per cent to $70.45 from $67.61 last year.
Gross churn nudged higher at 14 per cent from 13.9 per cent but MySky churn was only 10.1 per cent.
Sky launched its online TV website iSky this year and said, with the government aiming to deliver ultra fast broadband to 75 per cent of New Zealanders and the ever-growing desire to consume content via devices other than the TV, iSky will become a significant alternative to satellite for the delivery of content.
Fellet said Sky is "poised to showcase to the world our expertise in sport production" with the live broadcast of all 48 Rugby World Cup games.
Rob Mercer at Forsyth Barr said Sky's result was $3.6 million below his forecast, predominantly because of flat second-half advertising revenue of $27.1 million, $9 million below his forecast, which "reflects the challenges facing the advertising market."

Sky will pay a fully imputed final dividend of 10.5 cents per share, up from 7 cents last year, as well as a special 25 cents dividend, taking the payout for the year to 51.5 cents compared with 14 cents last year. Per-share earnings were 30.86 cents, up from 26.43 cents last year.
Mercer said Sky's net debt had fallen to $407 million at June 30 from $447
million a year earlier and the special dividend will push it back towards $450 million.
"Special dividends could become an ongoing feature of Sky's results," he said.
Sky shares rose as much as 15 cents to $5.90 after the results were released, just below its July high and well up on its year low at $4.92.