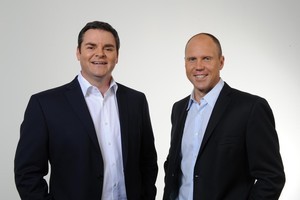 Television New Zealand yesterday announced its Rugby World Cup team.
Former All Black Jeff Wilson, sports commentator Andrew Saville, One News presenter Simon Dallow and broadcaster Martin Devlin will lead coverage of the event.
TVNZ general manager of sport Murray Needham said the broadcaster wanted to "establish a point of difference" from other broadcasters.
Sky TV, Maori Television and TV3 also have rights to screen cup matches.
The state broadcaster announced a new panel-based show would air at 10.45 on game nights.
TVNZ said it recruited Wilson because his experience of playing 60 tests between 1993 and 2001 would add to his commentary.
Wilson said his role was to explain the action during matches.
"And hopefully, given that I have been out there and experienced the pressures of playing at a World Cup, I can give the viewers an insight into the different mind-games that come with any high-pressure situation," he said.
Saville said the World Cup would be an "absolute career highlight".
TVNZ head of news, current affairs and sport Anthony Flannery said Devlin was recruited because he presented coverage of the Fifa World Cup last year. "He projected the passion and energy of that event and he will absolutely be in his element for this event."
- staff reporter