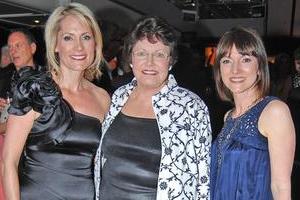 The bubbly may have been Lindauer, the beer may have been served straight from the bottle, the sausage rolls lukewarm and the after-show bash a cash bar across the road at Pastis, but the event was first class. Even early morning riser Marcus Lush stayed up past his bedtime. John Hawkesby could be heard wailing: "Kate, take me hooome," and not meaning a single word of it, while Susan Wood, Bill Ralston, Janet Wilson et al took the party across the road for after-match drinks.
Click here to see photos of the event
TVNZ celebrated 40 years of network news on Thursday night with a glamorous, yet fiscally frugal, party at the network and it's fair to say everyone walked through the automatic doors with trepidation. "I really wasn't planning on coming," said one famous face, who asked not to be identified. "God knows TVNZ were f***ing bastards when they culled me. They were c***s.
But then I thought I should really bite the bullet and come along."
Dougal Stevenson, in his BBC-trained diction, wasn't quite so uncouth. "Had you asked me 15 years ago, I may not have come, but that would have been a case of residual bitterness." The next day on Breakfast, Stevenson said: "The party showed the wounds have healed and everyone has moved on."
Click here to see more photos of the night.
Credit must go to Australian news and current affairs boss Anthony Flannery who received well-deserved praise for letting bygones go and bringing together TV's most dysfunctional family into one wonderful anniversary bash.
Hawkesby, who now grows grapes on Waiheke Island, thanks to the $6 million cheque he walked out the doors with, told me he was thrilled to be back and even happy to drink the plonk. He was happier to receive Flannery's call several weeks ago inviting him to the party. "I told him I might be in the UK on that date," Hawkesby said, "but he [Flannery] said the date wasn't set in stone."
He arrived with daughter Kate, who looked sexy in a micro-mini shift in emerald green and thigh high boots that looked like they'd come from the Pretty Woman wardrobe. She was minus her other half, Mike Hosking, who drew the short straw babysitting their conjoined brood of five. You'd think they could afford a babysitter. Perhaps they were celebrating their own anniversary at home later that night. It is thanks to TVNZ, rumours persist, that Mike and Kate fell in love.
Over the less-than-romantic dawn shift of brekkie telly, apparently. Now it's breakfast radio. The other glamorous father and daughter combo - but considerably less extroverted - were former long-serving head of current affairs Graeme Wilson and his accomplished daughter Jane, who runs the programming department at TVNZ.
Lindsay Perigo looked dapper in cravat and cufflinks, like Oscar Wilde; Mark Sainsbury looked festive in green, like a leprechaun. Andrew Shaw was hobbling around on crutches, a result of a motorcycle crash, he told me. He spent much of the night sitting down, which didn't do much for his diminutive size. He amused friends with imitations of Tattoo from Fantasy Island.
Jack Tame, a young One News cadet reporter with eyes for stardom, was Spy-ed following Simon Dallow around like a mini-me. In a sign of the past merging with the present, Tame was invited to say a few words following speeches by chief executive Rick Ellis and Dougal, the first man of news. However junior Jack, who has been with the network for a nano-second, rambled on the longest. He ignored the yawns.
Dancing with the Stars producer Debra Kelleher was there filming a segment and Phil Smith (Eating Media Lunch, The Apprentice) was there in his capacity as a Qantas Awards judge. Judy Bailey was noticeably absent. She apparently had a prior commitment. Speculation was rife that the "mother of the nation" snubbed the proceedings after her dismal fall-out with the network in 2005.
Jenny Goodwin, who was the first female news presenter in the Commonwealth, topped the list of accomplished newswomen who returned to celebrate, including Wood, Hawko, Wilson, Melanie Jones, Alison Mau, Louise Pagonis, Maggie Barry, Trish Carter, Cathy Campbell and Pam Corkery.
The importance of being earnest
Lindsay Perigo read the bulletin on Thursday's Breakfast show with much aplomb, but inside sources say his very-tight jacket had to be altered at the last minute. He did not, despite the rumours, have to borrow buff and sporty Andrew Saville's jacket.
The night before, he stole the show. Wearing an open-necked shirt with a gorgeous silk cravat, Perigo, puffing out his chest like a majestic peacock, channelled the fabulously flamboyant Oscar Wilde. It seems Mr Stevenson was rather fond of a similar get-up, circa 1975.
Dougal, still TV darling
Susan Wood, Vicki Wilkinson-Baker and Tuku Morgan fondly remember the week in Wellington, about 1985, that Dougal Stevenson, 67, taught them how to read the news. He had left the network five years earlier but kept the jacket and tie he wore on the last day of his television news broadcast out of Avalon Studios. He brushed them off and donned them again proudly on Thursday's Breakfast show, where he appeared as a guest news reader, to rave reviews. Text messages and emails flooded the network with love notes for Dougal.
More than 425,000 tuned in to watch. It was the first time he wore an ear piece. Like his counterpart Jenny Goodwin, Stevenson was not a journo, but a professional announcer schooled in BBC pronunciation. That was back in the day when a phone sat on the desk as the presenter read the news from sheets of paper.
The late Neil Roberts discovered the phone wasn't a prop when, during a live news broadcast, it rang. Not knowing what to do, he picked it up and answered it! These days, producers in the control room communicate with stars via ear pieces.
Missing in action
The roll call of those missing in action was extensive. Some absences were expected, such as former head Ian Fraser, who resigned in 2005 and was linked to an embarrassing select committee inquiry.
Former sports presenter Tony Veitch was never a likely contender for an invitation, however, other controversial figures from the network's past were courted, but for various reasons were no-shows. They included Judy Bailey, Richard Long (who was fired by TVNZ in favour of John Hawkesby) and Paul Holmes (who famously departed for Prime TV carrying a cardboard cut-out of himself).
Holmesy was MC at an event in Hawke's Bay on Wednesday night and couldn't attend. Philip Sherry and Tom Bradley sent their apologies; Liz Gunn couldn't be contacted; Vicki Wilkinson-Baker was at Scott Base; while Doug Armstrong and Anita McNaught live too far away. Sharon Crosbie, Joanna Paul, Sacha McNeil, Bernadine Oliver-Kirby, Linda Clark and Kim Webby were absent, as was Brian Edwards.
Jenny Goodwin, still sexy at 64, as she poses with newsgirls Wendy, Pippa and Miriama
Gap-toothed Angela D'Audney was always credited as the first woman newsreader in New Zealand, but that was the regional news. Jenny Goodwin was the first female to read prime-time network news in New Zealand and the Commonwealth. It was 1975.
Goodwin remained on our screens until 1982. She paved the way for today's band of female newsreaders and was happy to pose for Spy with Miriama Kamo, Wendy Petrie, and Pippa Wetzell at Thursday's party.
These days it's swivel chairs, auto-cues, fashion stylists and hair and makeup experts at the ready, but in Goodwin's day it was reading from paper scripts and dressing yourself.
Rachel Glucina
Pictured above: Karen Olsen , Jenny Goodwin and Louise Pagonis. Photo / Herald on Sunday