It was the latest thing in 1992, but it was never going to be a winner - and now it simply looks 'clunky and old'.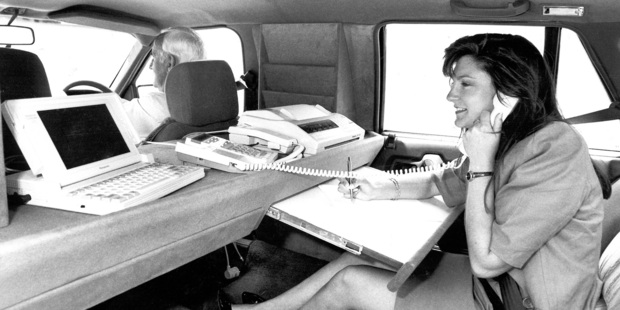 These days your "mobile communications centre" fits in the palm of your hand - but in 1992 you needed a custom-built car to take work on the road.
Tina Robertson couldn't have known how much mobile communication would change when she posed for the New Zealand Herald in the Holden Calais stretched 50cm by her employer, Auckland car dealer Schofield and Co, so it could carry a phone, fax and computer.
The company was proud of its "mobile communications centre", aimed at business clients, but the photo boasted of a future that would never happen.
Robertson, then 27 and now a 48-year-old mum-of-one, laughs as she remembers the photo.
"I found that photo when I was moving last year and I was like, 'oh my goodness, everything looks so clunky and old'."
Even back when the idea was shiny and new, Robertson was not convinced by it.
"I can't remember if we sold any or not," she said.
"But when you looked at the technology in it, anybody who knew anything about that sort of thing would have known that it would date really quickly."
Robertson had been working for Schofield for three years when the photo was snapped.
She was used to being shoulder-tapped for a variety of tasks.
Her job at Schofield's was as a "jack of all trades", and her work included selling cars, managing the reception area, organising functions and - when needed - posing for press photographers.
The variety proved excellent training for the rest of her working life.
Robertson later opened a night-owl cafe, worked as a nanny, managed a dating service and worked as a housekeeper for Charlotte Dawson.
"The things you do as a single mother to get by."
She enjoyed her time at Schofield and the photo still made her smile.
"I look so young and I've got no wrinkles."