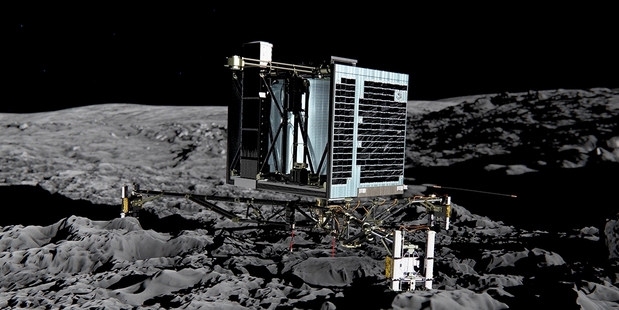 Scientists have begun work on a last-chance manoeuvre to contact the long-silent Philae probe, dropped more than a year ago on to the surface of a comet hurtling through the Earth's solar system.
Part of the European Space Agency's Rosetta mission, the probe has yielded spectacular scientific results - since its near crash-landing on to comet 67P/Churyumov-Gerasimenko in November 2014.
But it has been six months since mission control engineers at the German Aerospace Centre in Darmstadt have been in communication with Philae, and the odds of re-establishing contact are diminishing fast for the solar-powered probe as the comet speeds away from the sun.
"The last clear sign of life was received from Philae on July 9, 2015," the German Space Agency said.
In the past few days, scientists sent a command to the fridge-sized robot to spin up its flywheel, used to stabilise the probe when it landed, in the hope it would "shake dust from its solar panels and better align it with the sun", according to technical project manager Koen Geurts.
It is possible the command - routed through the Rosetta spacecraft orbiting the comet - will never reach Philae.
Philippe Gaudon of the French National Space Agency said: "It's an admittedly desperate move.
"It is very unlikely the robot will become functional again."
Mission managers believe one of the lander's two radio transmitters, and one of its two receivers, have failed, and the remaining ones may not be fully functional.