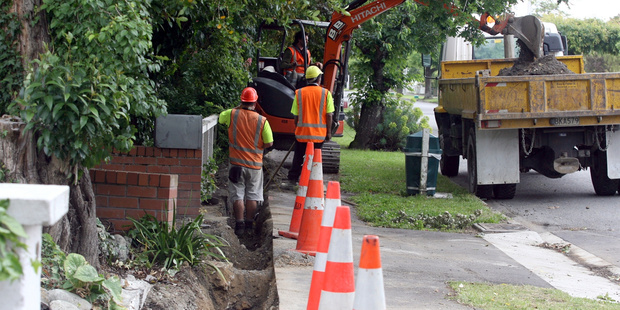 Wellington's small-and-medium-sized businesses have outpaced their counterparts in other centres in getting connected to ultra-fast broadband, with a quarter of the firms who took part in a survey saying they are hooked up to a fibre-based internet network.
This compares with 16 per cent of small-and-medium-sized enterprises (SMEs) surveyed in Auckland and 10 per cent of the Christchurch respondents.
Transtasman accounting software provider MYOB surveyed more than 1000 businesses. It is the first time MYOB - which regularly commissions market research firm Colmar Brunton to conduct polls - has asked respondents for their views on ultra-fast broadband.
While Wellington was the most connected main centre, 17 per cent of Northland's SMEs surveyed said they were hooked up to UFB.
The company responsible for the UFB rollout in that part of the country, Northpower, has made good progress in its leg of the infrastructure project and said this month that it was due to finish laying fibre internet cables in Whangarei in a matter of weeks.
Otago SMEs that took part in the survey were the least connected, with 6 per cent reporting they were hooked up to the much faster internet network.
Of the SMEs surveyed, 63 per cent said UFB would have a positive impact on their business while 30 per cent did not think it would have any effect.
"It's encouraging to see the majority of small-to-medium business owners in New Zealand are grasping the potential for ultra-fast broadband to transform their businesses," MYOB's James Scollay said.
"UFB will revolutionise the way business owners use business management tools, including cloud accounting. It will no doubt result in increased productivity, cost reductions and, in turn, an SME sector that can compete more effectively on both a local and global scale," he said.
A higher proportion of SMEs that had UFB were satisfied with the cost of their internet plan than those that did not.
Just over 40 per cent of those with UFB were satisfied with the cost of their internet plan, compared with 32 per cent of those not on fibre.
Of those on UFB, 22 per cent were still dissatisfied with their connectivity, while 51 per cent expressed satisfaction with their fibre internet. The remaining 26 per cent were neither satisfied nor dissatisfied.
UFB's impact
• 63% of SMEs say it will be positive
• 30% little effect
• 6% not sure
• 1% negative impact.