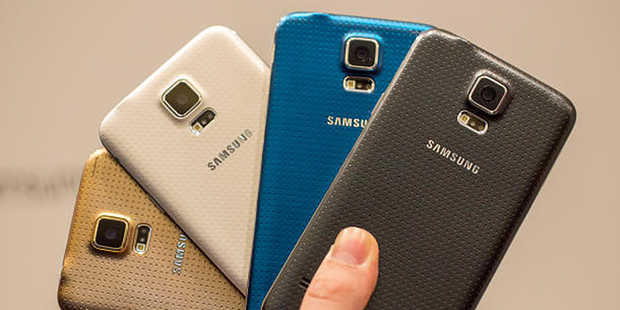 Samsung's Galaxy S5 smartphone made a splash when it was announced at Mobile World Congress. Many were curious to see if Samsung's new flagship phone had what it takes to pick up where the Galaxy S4 left off.
Like a musician recording that difficult third album, improving an already successful design must have been tricky. Testing however reveals that Samsung managed to pulled it off with the S5.
Look and Feel
Out of the box, the first thing I noticed was that it looks a lot like the S4. This said, flipping it over reveals a soft-touch dimpled finish on its back.
This isn't just cosmetic frifery, it makes the S5 easier to grip, resulting in less involuntary drop tests.
Speaking of which, the S5 also feels solid, with no creaking or flexing. Weighing in at 145g it is heavy, but not enough to rip the lining out of a pocket or purse. At 142mm x 72.5mm x 8.1mm, it's also taller than the S4.
Samsung also added a faux alloy surround on the sides of the S5. Its rear dimpled panel also comes in charcoal, blue, gold and white.
Bells and whistles
There's also no shortage of features. As with previous Galaxy handsets, the deeper I dug, the more I uncovered.
Many handset makers pile on buzzword-laden features that add little real functionality. Samsung appears to have listened to their customers, adding features that are genuinely useful.
Following Apple, Samsung have placed a fingerprint sensor under the home button. Three fingers can be registered and swiping a registered finger over the home button unlocks the S5. In use it proved pretty accurate. There's also the option of typing a password.
Another welcome feature is IP 67 water and dust resistance. This means that the Galaxy can handle a dunking of up to 1 metre for half an hour. Drowning one's phone need no longer mean a costly replacement or visit to the repair shop.
Perhaps the most crucial yet underrated spec of any smartphone is battery life. The S5 comes with a 2800mAH battery. In use it delivered a solid day and most of an evening's talking, texting and surfing.
Samsung also baked in an Ultra Power Saving Mode. They say this doubles battery life to provide up to 21 hours of talk time and up to 16 days of standby from a single charge. Using this mode sees the S5's display going greyscale, to conserve as much juice as possible. What features are able to be powered is also selectable. It's a genuinely useful feature that saved my bacon several times, greatly extending battery life when the S5's charge fell below the 10% mark and no charger was at hand.
Phone cameras have evolved to the point where point and shoot cameras are rapidly becoming an endangered species. Based on my informal testing with the Galaxy S5's 16MP rear shooter, point and shooters have good reason to be nervous.
The amount of shooting modes also impressed. More are also downloadable. 4K video recording is also available (although didn't test it given my lack of 4k TVs).
Samsung also talked up the S5's autofocus at its launch event, saying the autofocus did its stuff in a relatively nippy 0.3 seconds. In practice this translated into me being able to snap pics with minimal phone fiddling.
HDR was my go-to shooting mode. In low light conditions it pulled detail out of shadows and dimly lit areas that'd be otherwise lost as black blobs.
The S5's front camera uses a fairly respectable 2MP sensor which should also make for pretty tidy selfies.
The other much talked about feature on the S5 is its heart rate sensor. Firing up the S-Health app and holding my finger on the sensor under the rear camera's flash gives a beats per minute readout on the S-Health app.
It turned out that my resting heart rate was a very reasonable 51 beats per minute. This was reassuring given my cardio-pulmonary system has more in common with a grease trap than a temple of health.
Parents will also welcome the inclusion of a Kids Mode. Designed from the ground up to create a sandboxed version of the phone that is kid-safe. Kids Mode ensures wee ones are limited to approved apps and are unable to fiddle with settings.
I also liked the Download Booster function. This combined my router's WiFi bandwidth with 4G mobile data.
Data would have screamed onto my S5 if I'd had 4G coverage at home and my ageing router supported 802.11ac but reports from those lucky enough to have both are reporting some pretty impressive speeds.
In Use
Packing a Quad core Krait 2.5GHz CPU plus 2GB RAM, the S5 proved to be a real pocket rocket. Raw processing power aside, the connectivity specs were also muscular. 802.11 B/G/N/ac is baked in with MIMO, and there's LTE to take advantage telco network upgrades to 4G.
In use lags were almost completely non-existent in games and most apps I installed.
Verdict
The S5 mightn't look all that revolutionary, but dig a bit deeper and there's lots of new capabilities. Samsung appear to have done the smart thing, adding features that are useful rather than gimmicky.
Rounding things off is a solid build, and decent specs. Both combine to make the S5 a definite smartphone contender in the ultra-competitive flagship phone space.
Tech Specs
RRP $1049 (device only, prices will vary by carrier and calling plan)
Network: LTE Cat.4 (150/50Mbps)
Display: 5.1" FHD Super AMOLED (1920 x 1080)
CPU: 2.5GHz Quad core application processor
OS: Android 4.4.2 (Kitkat)
Camera:16MP (rear), 2.1MP (front)
Video: 4K UHD@30fps, HDR, video stabilisation
Durability: IP67 Dust and water Resistant
Connectivity:WiFi 802.11 a/b/g/n/ac HT80, MIMO(2x2), Bluetooth®: 4.0 BLE / ANT+
USB 3.0
NFC
IR Remote
Sensors: Accelerometer, gyro, proximity, compass, barometer, Hall, RGB ambient light, Gesture(IR),Finger Scanner, Heart rate sensor
Memory:RAM: 2GB
Storage: 16/32GB/microSD slot up to 64MB
Dimensions: 142.0 x 72.5 x 8.1mm, 145g
Battery: 2800mAh