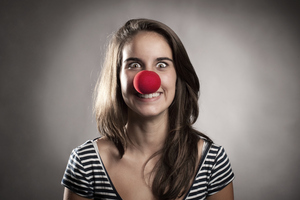 DRY RED NOSE: The runny nose and sneezing of a bout of hayfever may leave you reaching for the anti-histamines, but they all have side effects, sometimes unpleasant. Allergia Medical's prototype solution squirts bright broadband Red Light up your nose instead, and a pilot study suggests it works. The company also claim there are no side effects. Apart from the bright red nose, of course.
KEEP IT CLEAN: Hand sanitiser is especially popular in hospitals and medical centres to help disrupt the spread of infection, but if staff have to go out of their way to get to a dispenser they may not bother. PullClean puts the dispenser right in a door's pull handle. The handle has software that monitors sanitiser use and can also report back when the dispenser cartridge is nearly empty. That's a simple idea that could be very effective.
BOUNCE BOUNCE: If you crash while riding a Ducati Multistrada D-Air motorcycle and are wearing a Dainese jacket with integrated airbags, it'll take only 45 milliseconds for the airbags to deploy. The bike itself uses sensors built into its stock electronics to constantly monitor for acceleration, braking or falling over. If the system on the bike detects a crash, it sends a wireless signal to the Dainese D-Air jacket to deploy the airbag, protecting you as you fall. The system works for both rider and pillion passenger wearing the right jackets.
A WEATHER EYE: There's a new satellite keeping an eye on precipitation around the world. The NASA-JAXA precipitation satellite has a Core Observatory that includes a GPM Microwave Imager that can detect and differentiate everything from light rain to heavy snowfall because liquid raindrops and ice particles affect microwaves differently. The Dual-frequency Precipitation Radar uses radar to establish the distance between a storm and the satellite. Between them they can make very accurate measurements of even complicated storm systems.
A WARM GLOW: Solar cells collect light and convert it to electricity, then their work is done. But wouldn't it be handy if they could emit light too? Scientists at Nanyang Technological University used a material called Perovskite to create inexpensive solar cells by combining two or more chemicals at room temperature. After making the solar cells the researchers shone a laser on them and found the cells not only glowed when electricity passed through them, but were also able to glow in different colours. The researchers believe the material could be used for light decorations, or in displays because they are semi-transparent. When do we get the solar powered phones then? Nanyang Technological University.
Miraz Jordan, knowit.co.nz