OLED, which has a panel so thin it can be curved, is the latest in TV technology.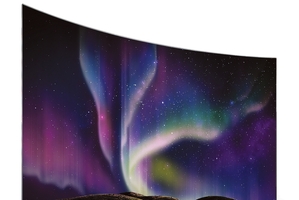 It has been hyped for the past year and now the latest television technology - set to turn any suburban living room into a mini Imax theatre - is available in New Zealand.
LG's curved OLED (organic light-emitting diode) TV has television junkies and tech-heads excited because its slight concave curve allows for a more immersive picture, better viewing angles and less glare.
However, at $8999 for a 55-inch, it will be a while before ordinary Kiwis get a taste of this amazingly thin crystal-clear screen and its futuristic flexible technology.
Together with ultra-high-definition (UHD) screens, the OLED is the first big new technology in flat-screen TVs since LEDs (light-emitting diode) and smart TVs arrived on the market several years ago.
A Consumer review of 48 LED televisions recommended Samsung, Sony and Panasonic branded TVs as the best buys, selecting nine models for special mention.
Tests involved viewing footage on all selected models for high-definition, DVD, Blu-ray, still photos and computer games.
Consumer NZ chief executive Sue Chetwin said TV technology was changing faster than before.
"The one thing about TVs is even if the technology is changing, your most up-to-date TV is going to continue working and you're going to get a good picture."
She advised consumers to weigh up whether they needed all the bells and whistles of a smart TV, and warned buyers to beware of sound quality.
The review also covered LG, Sharp and Veon brands, none of which were recommended or noted as worth considering.
However, it is LG that has raced ahead to deliver the OLED technology this year, with one 55-inch model selectively available around the country.
Noel Leeming Group executive general manager of merchandise Jason Bell said new OLED models, some of them just 4.3mm wide, were due in the country in June.
The TVs had already dropped from $15,000 when launched in December to $9000, but more reductions were not expected soon.
The other technology new to the market was ultra-high-definition, costing $4000 for a 55-inch TV.
The catch was that not many programmes or movies were made in UHD yet, but Mr Bell said it was about future-proofing, and there would soon be converters.
Meanwhile, plasma technology, once a favourite in this country, is now discontinued after global manufacturers recently announced they would stop making such sets.
"A lot of that is driven by plasma as a technology being quite power- hungry," Mr Bell said. "It's heavier than LED and it produces a lot more heat."
He said it was hard to pick a clear winner when searching for a TV and it came down to what people wanted the screen for. "Size is the first thing people look to. I've never heard of anybody who's looked back and thought, 'I wish I got a smaller TV'."
To view the entire Consumer review, visit consumer.org.nz