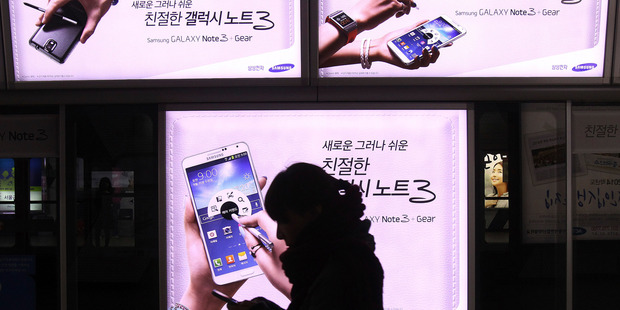 A woman walks banners advertising Samsung Electronics' Galaxy Note III at a subway station in Seoul, South Korea, Thursday, Dec. 12, 2013. Photo / AP
Samsung Electronics Co. says its fourth-quarter operating profit has declined 6 per cent over a year earlier.
The South Korean company said in a Tuesday earnings preview that its operating profit is estimated at 8.3 trillion won (US$7.8 billion) for the final three months of 2013. The result was lower than analysts' forecast.
Sales rose 5 per cent to 59 trillion won (US$55.4 billion) for the October-December period.
Analysts said Samsung's profit fell because its businesses supplying advanced displays and chips for iPhones and Galaxy smartphones posted smaller profit with slowing demand for high-end smartphones. They said Samsung's smartphone business making Galaxy smartphones and Galaxy Gear smartwatches was not as lucrative as before because of higher marketing costs.
Samsung will disclose details of its earnings including net profit later this month.
-AP