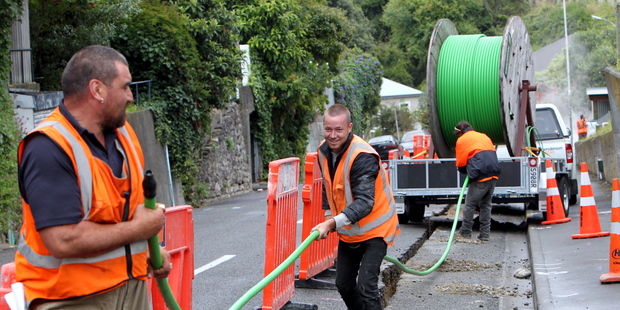 Shares in telecommunications network company Chorus dropped by 16 per cent to the lowest point in its two-year history after the Government was yesterday left without support for its proposal to override wholesale price cuts recommended by the Commerce Commission.
By mid-morning, Chorus shares were down 28.5c at $1.50 - their lowest point since the company was split off from Telecom in 2011. They are currently trading at $1.53, down 14.3 per cent for the day.
Shane Solly, portfolio manager at Mint Asset Management, said the decline reflected local investors' dissatisfaction with Chorus as a dividend-yield stock.
International investors were also questioning the company's yield status, and adding regulatory risk into the pricing of the stock, Solly said.
Early this month, Chorus said that in light of the ongoing regulatory uncertainty facing the company, it had chosen to withdraw its 2014 dividend guidance of 25.5 cents per share.
James Lindsay, senior portfolio manager at Tyndall Investment Management, said the removal of legislation options means investors have to take the Commerce Commission's price determination as gospel, leaving Chorus unlikely to be able to pay dividends, and probably in need of raising fresh capital.
"You've got to pity them now - they were doing the hard yards in actually making a good stock of building the UFB (ultrafast broadband network) and now they've sort of been slightly abandoned," Lindsay said.
The government has hired Ernst & Young Australia to run the ruler over Chorus's books to see if it has the financial capability to deal with a Commerce Commission imposed cut to services on the copper lines.
Communications Minister Amy Adams is mulling how to respond to Telecommunications Commissioner Stephen Gale's planned 23 per cent price cut for access to Chorus's regulated copper lines, which the network company says will force an overhaul of its capital structure and may threaten the taxpayer subsidised build of national fibre cable infrastructure.
Adams said yesterday the stance by other political parties wasn't unexpected, and that the government has been considering a number of non-legislative measures for some time.
She told Radio New Zealand's Checkpoint programme legislating would have been the government's least preferred option, and that the government is waiting to see EY's analysis to determine what slack Chorus can pick-up, before deciding what steps to take next.
Other options open to the government are changing the terms of Chorus's contract to build the UFB network, which could include shifting the milestones the company would have to meet.
Chorus chief executive Mark Ratcliffe told RNZ's Morning Report programme there were "many, many options" still available, including the ability to vary the company's contract with the Crown for the UFB rollout.
The UFB project was a public-private partnership, making the Crown a "critical" element in whatever approach was determined, said Ratcliffe.
with BusinessDesk
- APNZ