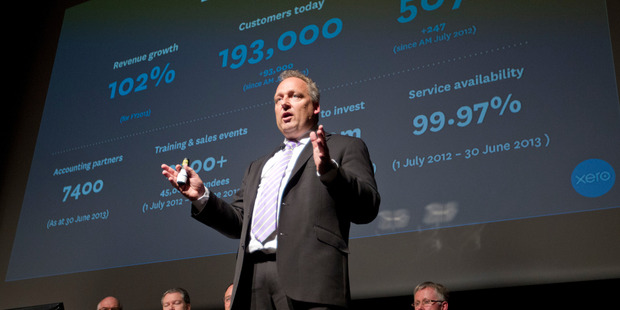 High flying tech stock Xero is now valued as New Zealand's second largest listed company after surpassing Auckland Airport today.
Shares closed today at $37.70 valuing it at $4.76 billion and taking it past Auckland Airport's market capitalisation of $4.7 billion.
Auckland Airport returned a profit of $177 million on revenue of $448 million in the last financial year.
Xero has not yet made any profit and will likely generate revenue of about $70 million this year.
Meanwhile a New Zealand broking firm has put a target price of $45.70 on Xero and says the accounting software company could grow to a $10 billion NASDAQ company within five years.
First New Zealand Capital released its first research note on the company this morning valuing it 38 per cent above yesterday's closing share price of $33.15.
First NZ analyst James Schofield said while it was valid to compare Xero to New Zealand's largest listed companies, international investors saw Xero in a global context and were comparing it to global technology companies.
The largest of its rivals is Intuit - a US firm with a valuation of US$20 billion. Others were Salesforce worth US$31.8 billion and Workday worth US$13 billion.
"Those companies are all much further down the track. But that is the framework that international investors look at this company from.
"If you look at the US, where Xero is only just beginning, that market is 64 times the size of New Zealand."
Schofield said his valuation was based on Xero having the ability to tap into a market worth US$4.2 billion, a proven track record of execution, customer acquisition momentum over the next 18 months and the potential for sustained 70 to 100 per cent revenue growth.
But the company also came with significant risks and should be seen as a speculative stock.
"They do face incumbents in each of their markets."
Xero also faced a range of potential challenges including internet security, managing growth, key person risk, attracting talent and funding, outlined in his research note.
"Given the recent share price rally there are great expectations and they will need to succeed."
He said the company needed to justify its share price.
"That is why it's a risky investment."
Potential investors needed to make sure they had a diversified portfolio.
Schofield said he believed part of the reason for Xero's recent share price rally was a Bloomberg TV interview with Xero's US president Jamie Sutherland on Friday.
"I'm convinced that will have had an impact. It happened on Friday which is when the stock began to rally."
Schofield said the interview would have gone out to US investors who were only now discovering the company for the first time.