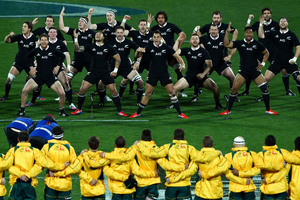 Just before kickoff in the All Blacks test against the Wallabies on August 24, data usage spiked as New Zealanders uploaded photos of themselves, according to a research by Vodafone.
And on a Sunday morning just before Races 9 and 10 of the America's Cup last month, when both Oracle and Emirates Team New Zealand, put points on the scoreboard Vodafone customers used 2.29 terabytes of data - the equivalent of more than 200 movie downloads.
Vodafone launched its 4G service nine months ago and has just released a white paper that mined information from the network's 20,000 users to see what they were doing.
The research tracked when Kiwis started using their smart devices and what sites they visited.
Just before 12pm sees the biggest spike of data use, with other peaks at 2pm and about 4.30pm before dipping at 6pm.
4G users also shopped online nearly twice as much as those on 3G, in part due to the speed and consistency of their new connections delivering better all-round browsing experiences, the white paper reported.
Nearly a quarter of 4G users used social media more than 20 times a week - more than twice the number of heavy social media users on 3G - and they were more likely to use picture-based services like Instagram and Snapchat. Vodafone said this was partly because those users were more likely to be "early adopters" and partly because 4G facilitated faster upload (typically 30Mbps compared to 1-2Mbps on 3G).
And surprisingly the biggest 4G users didn't live in Auckland or Wellington.
"When we launched 4G in New Plymouth, we saw a massive 400 per cent increase in data usage, compared to 30 per cent or 40 per cent increases in other areas."
The telecommunication giant's consumer director, Matt Williams, said 4G was ten times faster than standard 3G and twice as fast as dual-carrier 3G.
"The report is the first of a number of reports to come outlining the changing behaviours of Kiwis living in a faster and better connected New Zealand, whether that's ultra fast broadband, mobile or TV."
*************
Key points
- 88 per cent of 4G users have used the portable hot spot feature on their handset
- 4G users are 87 per cent more likely to stream music than 3G users
- 4G users are 74 per cent more likely to stream video than 3G users
- 24 per cent of 4G users access social media more than 20 times a week
- 4G users stream four times more content than 3G users - 4G users are twice more likely to buy online than 3G users NZH lb
- APNZ