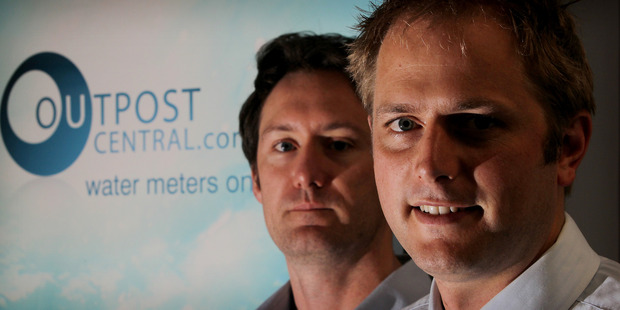 When James Riddell began marketing his innovative smart metering systems in 2002, real-time, cloud-based reporting was a hard sell.
Fast-forward a decade and the ubiquity and acceptance of cloud-computing has put Outpost Central's Riddell and his co-founder Jedd Forbes a step ahead of the competition in the water-meter and soil-moisture sensor market.
"We had a cloud model when we started over 10 years ago and that was a real struggle pushing that concept into businesses, but now it has flipped on its head and all the tenders are coming out expecting it to be cloud-based, so we're in a really good position," Riddell said.
Outpost Central's cornerstone product is a device which attaches to water meters, sending real-time information over the mobile phone network to a dedicated website.
It works directly with utilities and major water users, but also has a strategy to link with business partners or have the technology built into third-party devices.
The company has doubled its revenue in the past 12 months, signed up a new customer in South America and recently opened an office in Perth, Western Australia.
Outpost Central's business success got a boost in 2009 when it was among the first winners of the $1 million Auckland University Business School Entrepreneurs' Challenge.
The challenge aims to kick-start the growth plans of companies seeking to expand, particularly overseas. "It came at a good time for us because we were trying to grow it without investment so cashflow is always a problem," Riddell said.
Outpost Central plans offices in the United States and Europe too.

Entrepreneurs' Challenge
• Open to companies seeking funds for growth or expansion.
• Businesses with a financial track record and a minimum turnover of $1 million will be preferred.
• Funding negotiated on a case-by-case basis, with up to $1m available on favourable terms.
• Entries open June 18, close 5pm July 5.
• Winners announced in October.
• www.entrepreneurschallenge.co.nz