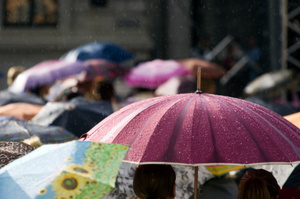 TEXTING IN THE RAIN: It's pouring with rain and you just have to send an urgent text or email from your phone. But that's OK, because you have your trusty umbrella. Or is it? Have you ever tried to type on your phone while holding an umbrella? The Brolly has you covered because of its special grip with holes for your fingers. The grip is made from rubber and ABS plastic, so it's comfortable, flexible and strong. Meanwhile the rest of the umbrella's frame is made of aluminium and fibreglass. A grip like that would be very handy too in sudden gusts of wind.
UMBRELLA SAVINGS: Once your umbrella has fallen to bits you probably drop it in the bin. The polyester part can take forever to degrade, while the metal is just wasted. The polypropylene Ginkgo umbrella from Italy on the other hand is completely recyclable. The struts are made from a single piece of polypropylene and can bend without breaking.
The umbrellas can be heavily customised so buyers can choose their own colours for individual parts. Mary Poppins would approve.
1-PIXEL CAMERA: When researchers at the University of Glasgow recently made a 3D image they didn't need a camera to do it. Instead they used simple cheap detectors with a single pixel to sense light and a computer to do some heavy duty maths. They shone patterns of light on to objects. Four single-pixel sensors were placed at various locations and recorded reflected intensities of light to produce multiple 2D images. The computer then combined the 2D images to produce a faithful 3D representation. The power here is that sensors could work in frequencies beyond visible light, perhaps even in the TeraHertz wavelength. It's an interesting change from the megapixel race.
CELLULAR PRINTER: The Australians are getting into printing in a big
way: they've printed organic photovoltaic cells the size of an A3 sheet of paper. Such cells could be embedded into laptop cases to provide backup power or perhaps into advertising signage. The process itself is just like printing on to a T-shirt. The printer uses semiconducting inks and can print at up to 10 metres per minute on to paper-thin flexible plastic or steel. The organic photovoltaic cells produce 10 to 50 watts of power per square metre. Ubiquitous solar cells could lead to a lot of changes.
UP ON THE ROOF: Hyundai have a huge manufacturing plant in South Korea. It's more than 213,000 square metres in size. And with all that empty roof space what better to do than to cover it with 40,000 solar photovoltaic modules? The peak capacity of the combined modules will reach 10 MW, and the completed plant will be able to supply stable electricity for some 3,200 households. That's a nice way to generate some extra income from waste space.
Miraz Jordan, knowit.co.nz