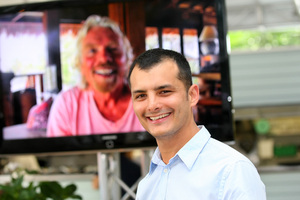 Tech entrepreneur Derek Handley's Snakk Media, which helps firms get their advertising in front of smartphone and tablet computer users, has opened an Auckland sales office and appointed an executive to manage local operations.
Snakk said this morning it had appointed former group sales manager at APN News & Media, Rowan Spinks, to manage the "growing number of New Zealand opportunities the company is facing."
Spinks' role was the first sale-focused position based outside of Australia, the company said.
Handley - who is Snakk's co-founder and chairman - said the New Zealand sales office wasn't originally in the company's plan.
"The response since the listing because the profile of the business created a lot of inbound interest and people asking why aren't you opening here, we want to do business here?," Handley said from New York.
"We had some market stats released recently which showing the market was heading in the right direction and was starting to pick up, so the combination of those two reasons we made the decision to pull the trigger."
Snakk's chief executive Mark Ryan said it was time for Snakk to boost its local presence.
"This country is also a fantastic place to trial and pilot new initiatives and technologies," Ryan said.
Last November, when Snakk announced its intentions to list on the NZAX, the business' growth had predominantly come across the Tasman, where most of its staff are based.
The company listed on the alternative market in March and shares this morning were trading at 16c, up 3.23 per cent.
In April it unveiled details of a share purchase plan where it hopes to raise up to $2 million to fund expansion into new regions and boost sales staff.
Handley said this morning the company was pleased with the response to the share purchase plan, which shareholders have until next Tuesday to take part in.
Snakk had revenue of $1.99 million for its last full financial year to March 31, 2012.
The company more than doubled its revenue in the last three months of 2012 compared with the previous year and said in March its unaudited revenue was $1.439 million for October to December - up from $686,000 in the last quarter of 2011.